QuickBooks Online in 2021 has truly poised itself to be an enormously beneficial alternative to QuickBooks Desktop in the year 2021. With so many competitive features added since its inception, especially in this last year, QuickBooks Online is quickly dominating the small-to-medium business cloud accounting space. As this year comes to a close, businesses prepare for year-end. With 2022 growth plans being finalized and soon to be executed, many businesses are pondering this complex question:
Should we convert or migrate to QuickBooks Online?
For this reason, an informative article analyzing QuickBooks Online was deemed necessary in our mission to right-fit clients to optimal QuickBooks solutions. This article will provide you with all of the important advancements made within QuickBooks Online in the last year, and how you can leverage support to ensure you are on the best product for your business.
All About QuickBooks Online in 2021
The fact of the matter is that there is much to know about QuickBooks Online. And, in this article, you will learn about all of the good, and all of the not-so-good, with QuickBooks Online in 2021. More specifically, this article will detail all of the following:
QuickBooks Online in 2021: Features & Updates
Chart of accounts
Discover and evaluate data faster with a reinvented chart of accounts experience. Intuit added a few modifications to it to classify transactions – anything from sales forms to reports and tax forms – so data searches are faster when it's time to file your taxes.
A new chart of accounts structure based on the company entity has been developed.
You may now search for accounts using your own keywords thanks to improved search capabilities.
Etsy Integration
QuickBooks Online in 2021 integrates with the Etsy app, using an Intuit-built integration. Sales receipts from Etsy are instantly imported into QuickBooks, and fees are reported as costs. Each sale, as well as each listing and transaction charge, will be simply categorizable (income, sales tax, or merchant fees).
Google Sheet Data Integration
QuickBooks Online in 2021 also integrates with Google Sheets, streamlining the data importation process from Google Sheets to QuickBooks Online.
Left Navigation Menu
Intuit is testing a restructured left navigation menu to see whether it can help small company owners discover what they need more quickly and simply.
Month-end Review
The new month-end review procedure in QuickBooks Online makes it easy to track bookkeeper progress. It entails features, such as automated mistake detection, to assist bookkeepers close books more accurately, so they can regularly provide high-quality books in less time. Firm management may also obtain visibility into their bookkeeper's efforts and have the assurance that the books are compliant with the law, thanks to integrated progress tracking.
Auto-import of bank statements: You can now view all of your bank and credit card statements in one spot.
Undeposited monies (under the Transaction Review tab), AR +90 days, and AP +90 days are all-new mistake detections (in the Final Review tab).
Project Time Tracking
The dedicated Time workspace enhances QuickBooks Essentials, Plus, and Advanced's current time tracking capability. Business owners can now monitor and update timesheet data in a single place and utilize it in QuickBooks Online workflows like invoicing, payroll, and job costing.
Receipt Review
On the banking "For Review" page, you may now evaluate both bank transactions and their related receipts at the same time.
Recurring Bill Autopay & Schedule Pay for Invoices
Business owners may now offer their clients the option of setting up recurring payments for future dates when submitting invoices using QuickBooks.
QuickBooks now offers two choices to small businesses and their customers:
Send a recurring invoice that accepts online payments. This gives customers of small businesses the option of enabling autopay. Their clients may keep their payment information so that they can pay every recurring invoice on time.
Send a single invoice with the option to accept online payments. This gives the consumer of a small business the option of scheduling their payment for a certain, future date. It must be completed before or on the small business's deadline.
Both credit card and ACH transactions have Autopay and Schedule Pay options.
Self-migration Feature
Spend less time deactivating your firm-billed subscription clients who want to handle their own subscription.
Square Integration
All Square sales transactions will be auto-imported into QuickBooks Online with the free Connect to Square software, saving your clients time, limiting human data entry, and lowering the risk of mistakes. Simply examine transactions before they are entered into the accounting system, and you're done.
Statement Auto-import Feature
Wells Fargo statements are now loaded into QuickBooks Online automatically. Statement auto-import allows you to examine statements from compatible banks from within QuickBooks during reconciliation. Wells Fargo joins a list of over 3,000 banks that have pledged their support. If you've signed up for statement auto-import and use banks that Intuit does not presently support, you or your client may upload and attach the statement to the account so that it's ready to reconcile when the time comes.
Trips Feature Update
Until recently, the Trips function in QuickBooks Online was only accessible by the account's admin. All admin types – primary and business – may now use this capability.
Wallet Integration
Intuit realizes how inconvenient disruptions to your workflow may be, such as having to re-enter payment accounts you've previously used. Because of this, you may now store and retrieve payment accounts across the QuickBooks Online suite of products.
QuickBooks Online Advanced in 2021: Features & Updates
Add Attachments to Tasks
When all important information is arranged in one place, it's easier to execute tasks. That's why Intuit has made it possible to attach files to jobs as they're being assigned. Previously, the only way to contribute task-related information was to type it in the notes box or share it outside of QuickBooks Online Advanced. Starting this month, you may attach any relevant files to the assignment, ensuring that the person in charge gets all the information they want.
Bill Approvals
New bill approver rights allow you to build unique user roles that can approve bills, saving up time for more critical duties. This improvement, when combined with bill approval procedures, will enable businesses to send bills to the proper person for approval while denying them access to data and capabilities they don't require. Admin users may now outsource approval choices with ease, allowing them to focus on higher-value tasks. The new workflow enables administrators to tighten up their bill approval processes without risking payment defaults.
Custom Fields in Batch Editing
Custom fields are now supported in batch invoice editing. With this update, you can verify that reporting data reflects the modifications made to invoices that were batch updated. Enjoy saving time on data entry while speeding up your process!
Custom Reminders
Instead of utilizing the restricted number of available templates, you may now modify reminders in workflows. Custom reminders are a significant improvement to workflows, allowing users to set up automated reminders based on any number of parameters. Reminders are triggered when user-defined circumstances are satisfied, using "if-this-then-that" logic. Tasks in QuickBooks Online Advanced's task manager, customer emails, internal company emails, and push alerts are all examples of reminders. A firm that is having problems collecting payments on time for high-value bills, for example, does not have to rely only on the follow-up of a sales professional. A user may send personalized reminder emails to both the client and the sales representative, alerting them of the upcoming due date. The emails may then be tailored to send a particular number of days before the due date, for bills above a given amount, and for individual invoices.
Custom Report Builder
The new custom report builder in QuickBooks Online Advanced allows you to pick and select which fields and KPIs to include in your reports, ensuring that you're giving your clients the most useful information. You may now sort, organize, filter, and summarize data in your own unique way to get more information out of personalized reports.
Here is how it works:
A field picker allows you to choose the fields you wish to view in the report.
Within the report, you may group, sort, and filter any column while summarizing with totals, averages, and percentages.
Within each group or sort, refine the list of entries.
You may save the report and run it again, or you can export the data to share with your team.
Custom Role Preview
An admin user can utilize role preview to try out a new custom role before assigning it to users. The administrator may view and try out the roles they're establishing to make sure they have the right access and permissions. Role preview is only available in QuickBooks Online Advanced and allows you to examine your custom roles from the perspective of the user before assigning them.
Check each custom role to make sure no sensitive data is accessible.
Check people have the tools they need to execute the tasks you've assigned to them.
When you've previewed precisely what the role can see and do, you may assign custom roles with confidence.
Desktop Role Migration
Migrating existing desktop users and custom roles to QuickBooks Online Advanced is made easier with desktop role migration. Previously, during QuickBooks Online Advanced setup, admins had to manually recreate each user and custom role. Admins can now ensure that users have the proper rights and enjoy a faster, smoother move to QuickBooks Online Advanced with automatic migration.
Users' permissions are automatically assessed and arranged during the data conversion from Desktop to Advanced.
Advanced assigns a custom role to the permissions that may be matched.
During this migration, users are also created in Advanced and given the appropriate custom roles.
The admin is requested to invite people from a list of current users and their corresponding roles during Advanced setup.
DocuSign Integration
You can now sign, transmit, and manage digital documents directly from QuickBooks Online Advanced with this latest addition to the list of Premium App connectors. Intuit has ntegrated DocuSign with QuickBooks Online Advanced to help you stay on track. Start utilizing QuickBooks' DocuSign eSignature Connector to sign and send estimates for approval from your Advanced account.
Signees may easily receive and sign documents using eSignatures from any computer or mobile device. This reduces the time it takes from quotation to cash and makes it easier to manage bills without the inconveniences of a paper trail.
Location-based Sales Roles
You can now outsource sales form responsibilities to sales reps based on their location, giving your sales team the information they need to get more done. Sales users may use QuickBooks Online Advanced to produce estimates, invoices, sales receipts, credit notes, refunds, and more for their own books of business. Put the correct information in the hands of the right people:
If the sales user is set up to approve invoices, they will get invoice approval tasks.
Admin users can utilize Tasks to notify Sales users of past-due bills.
Only the sites that sales managers are allowed to oversee can be added.
Multi-company Reports
To have faster access to company reports for your numerous clients in Fathom, you can now use a new Multi-Co Reporting tab on the Reports page. If you use QuickBooks Online Advanced to manage many companies, Fathom allows you to compare and condense data from various organizations into a single report. The new Multi-Co Reporting option allows you to quickly view information from many companies. Improvements to Fathom's user interface also allow you to view the whole picture at a glance. Examine how it functions.
Recurring Tasks
A new feature in QuickBooks Online Advanced Task Manager's Activities will allow you to create predetermined schedules for recurring tasks. In Task Manager, choose the new toggle button under Tasks to expose many options that will help you create the recurring timeframe. When you're finished, your chores will automatically repeat at the time you selected.
Smart Insights
Without having to examine the statistics, you can instantly spot critical insights. The new Smart Insights area of the QuickBooks Online Advanced performance center examines KPI trends and shows what's driving them in a prominent spot on your dashboard. You may also receive notifications for important KPIs like revenue, gross profit, and costs.
Ensure QuickBooks Online is Best for Your Business in 2021
The best way to ensure QuickBooks Online is best for your business is to talk with one of our expert certified ProAdvisor consultants Our experts are extremely knowledgeable about all QuickBooks products and will align you with your optimal solution after consulting with you. Our experts will get to know your business, your processes and workflows, and your challenges and goals. After leveraging their extensive industry knowledge and accounting know-how, our experts will share their recommendations and go over your options with you, while saving you as much money as possible.
About Us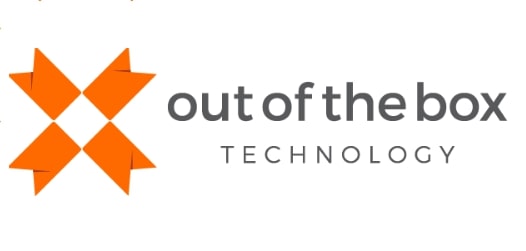 Out of the Box Technology is an Elite QuickBooks Solution Provider (QSP). We provide our clients with QuickBooks products and end-to-end Business services and Data services through our talented team of in-house ProAdvisor Advanced Consultants, possessing over 500 years of combined QuickBooks experience. Armed with our "SauceBox ApproachTM," Out of the Box Technology's Advanced Consultants live up to our motto, "Anything + Everything QuickBooks." Contact us and let us show you the best possible client experience, every single time! And don't forget to check out our Company Blog for Free Resources, valuable How-To's, and TONS of frequently added QuickBooks content!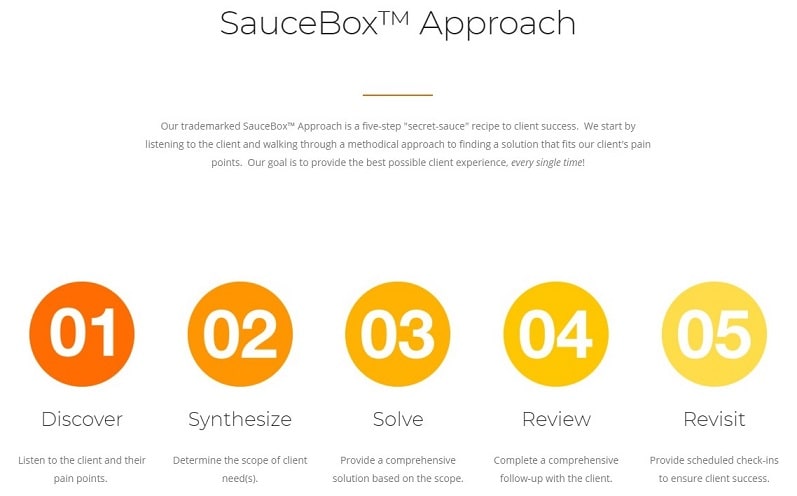 What is Our SauceBox™ Approach?
Our SauceBox ApproachTM is the internal process that we developed specifically to better serve our clients.  This is essentially a five-step secret-sauce recipe to client success.  We start by listening to the client and walking through a methodical approach to finding a solution that fits the client's pain points.  Our goal is to provide the best possible client experience, every single time!