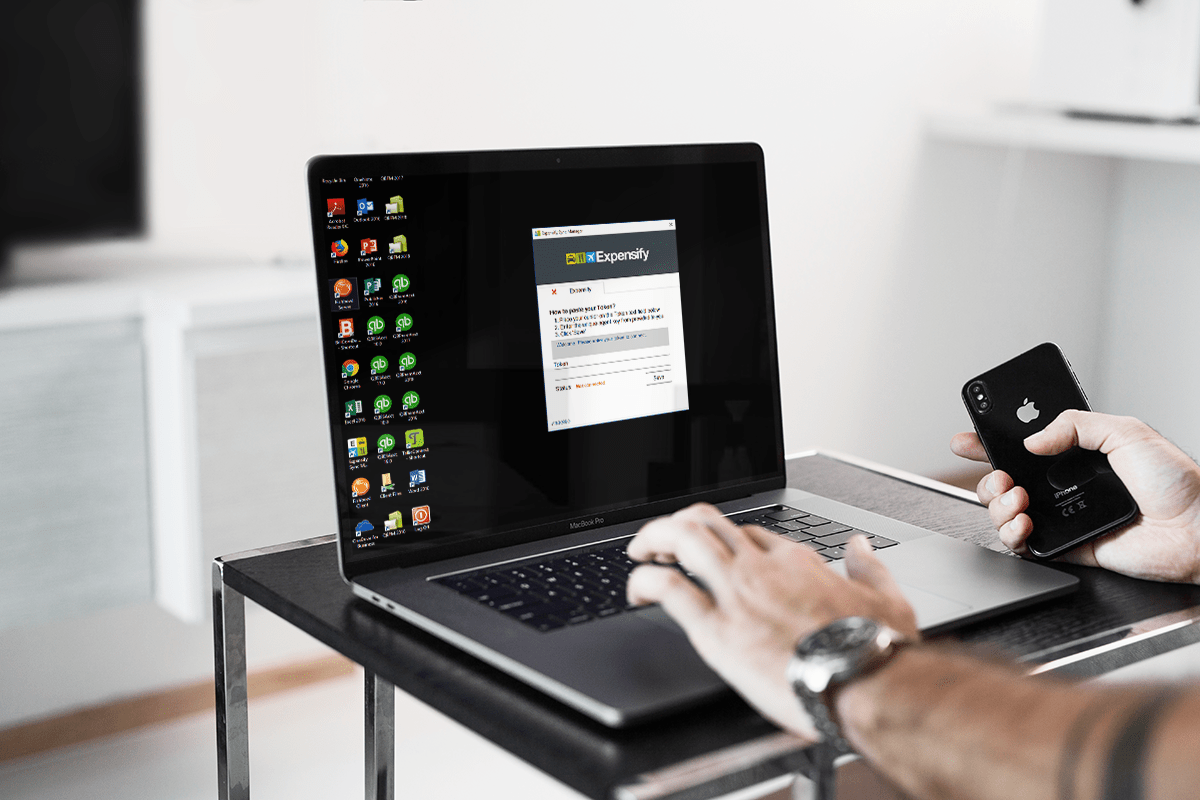 There are plenty of QuickBooks apps to choose from to provide automation to the many tasks done manually in QuickBooks Desktop or QuickBooks Online. The depth of QuickBooks app integration can inevitably overwhelm – while you look for QuickBooks add ons & extensions to fill specific gaps encountered in recording transactions.  Each business will have specific operational needs, requiring specific apps. While acknowledging this, here are apps providing immediate impact for ANY business in 2019.
#1) TSheets – 
Robust QuickBooks Time Tracking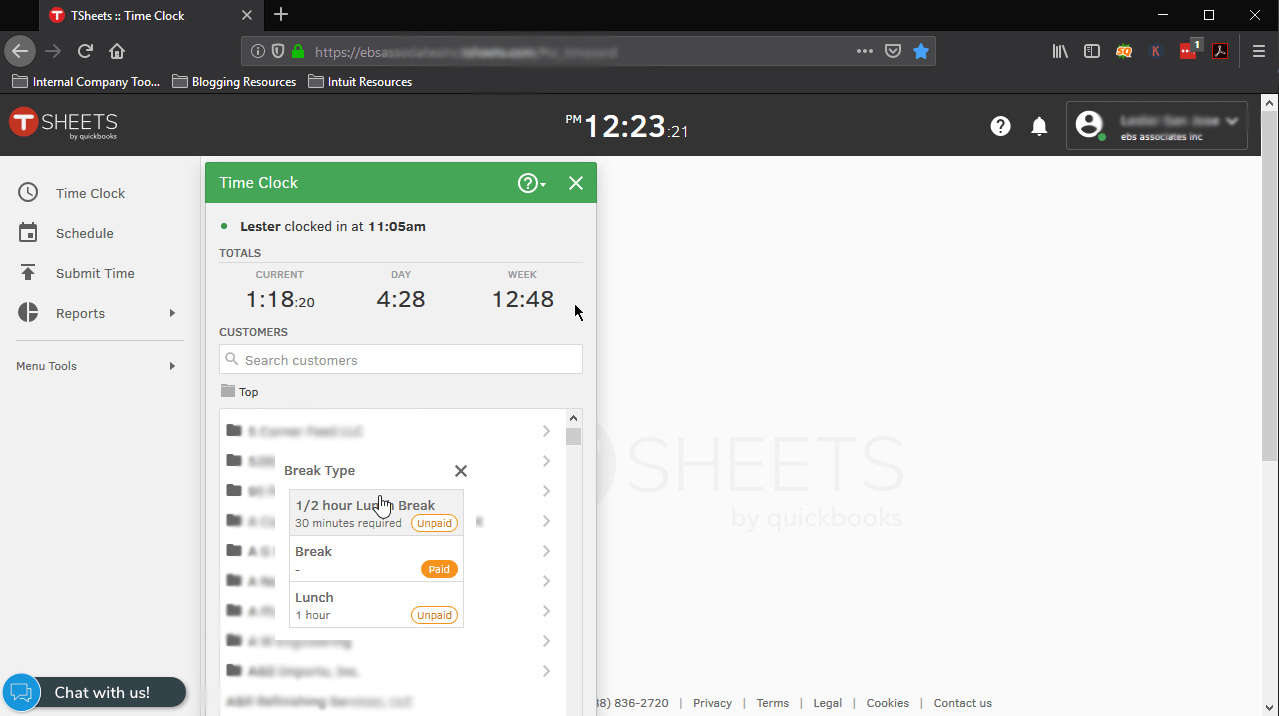 TSheets by QuickBooks (now QuickBooks Time) enables you to more easily and accurately track employee time. Depending on how you get set up, you will be able to conveniently track billable time or non-billable time; classes; service items for the type of work being done, and where; payroll-related items – base wage/salary; holiday; employee breaks/lunches; employee work notes; etc. It's been especially helpful for us here a. Many of us also take advantage of the mobile app available to monitor time spent on jobs, breaks/lunches and transition among states in a timely manner – tracking things by the minute.
I personally like the notes section, noting tasks I've done throughout a workday, workweek, and so on. It helps me track progress of the tasks I do around here. I can easily review them by going into "Reports," selecting the corresponding pay period I want to review. It keeps me on point, especially when going into the next day. I'm thinking this could be something your employees may find useful also.
#2) Avalara AvaTax – 
Automated Sales Tax Calculation Amid Sales Tax Nexus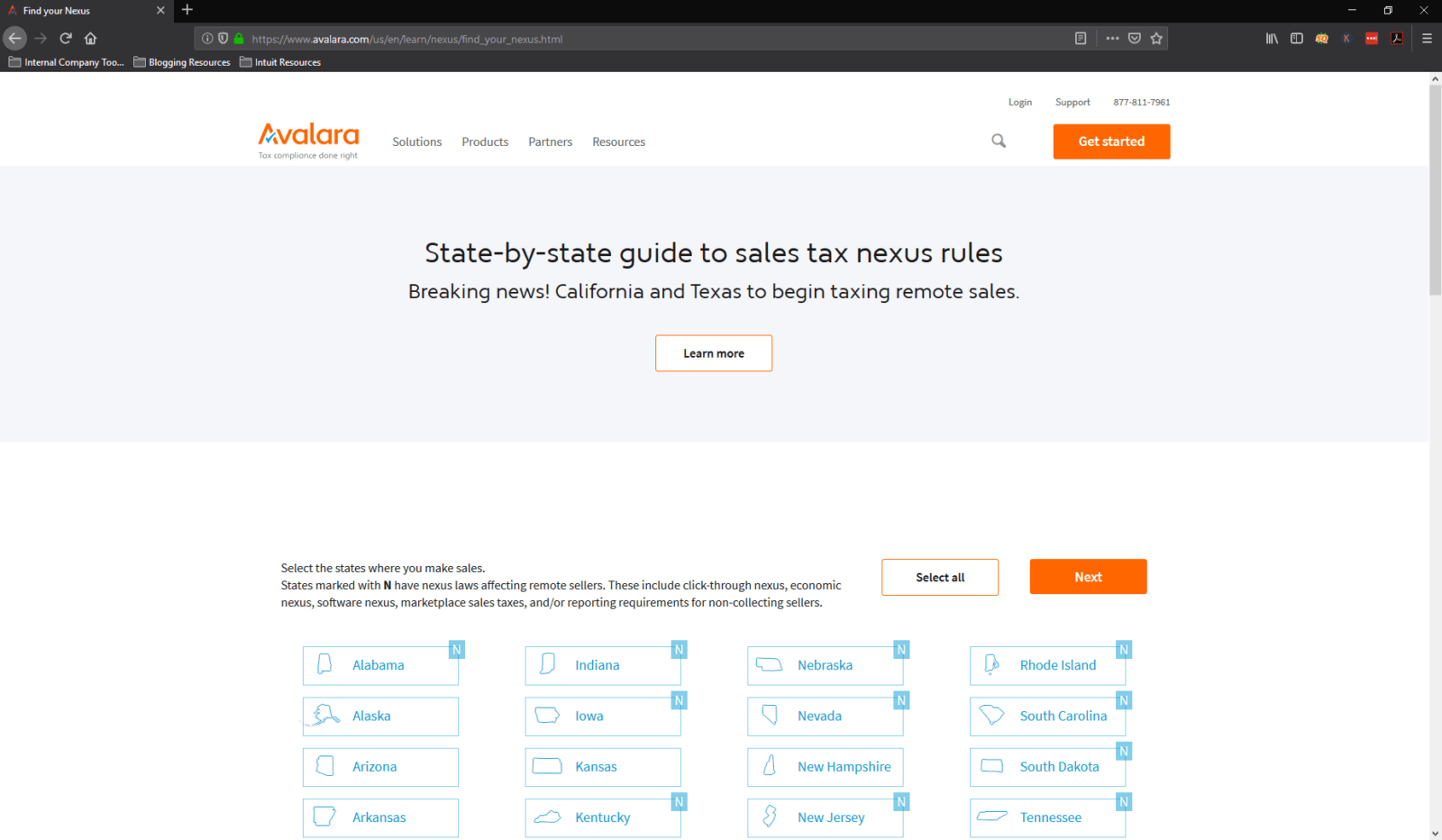 Avatax by Avalara makes Sales Tax Item and Sale Tax Group in QuickBooks – QuickBooks Desktop or QuickBooks Online – significantly more manageable. Not only will that process be streamlined, but AvaTax will help calculate Sales Tax collection, filing, and remittance.
The more important item of interest Avalara assists with is the determination of Sales Tax liability, with respect to interstate commerce – whether or not your business has a physical presence in a sales tax collecting state. In light of the decision made in South Dakota v Wayfair Inc., the sales tax determination process received a little jolt in the minds of business owners. In short, for the time being, your business will keep track the total revenue generated in a sales tax collecting and/or the number of transactions conducted therein. Our article, in response to this, can be checked out – here.
What makes things a little more tricky is determining the sales tax rates you'd be responsible for. The way such is determined isn't as simplistic as many would believe. Personally, having lived in San Diego and Los Angeles, one mile could be the difference between being charged 8.75% or 7.75% sales tax; in the case of Los Angeles, you could pay 9.50% or 10.25% in sales tax. AvaTax will alleviate much of the headache brought on by having your business do such guesswork.
#3) QuickBooks Enterprise Advanced Pricing
Pricing Strategy Customization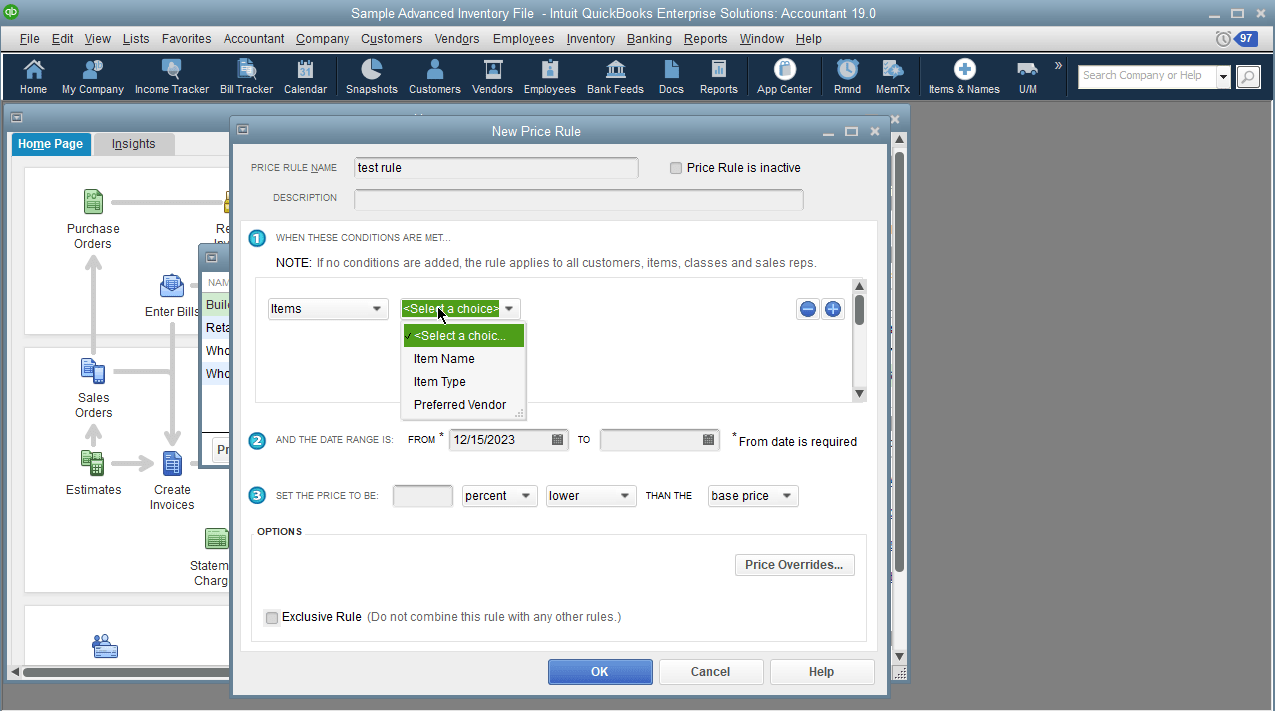 If your business' customer pricing strategy requires greater precision, take a deep dive into QuickBooks Advanced Pricing – available to QuickBooks Desktop Enterprise Platinum subscribers. It goes beyond Price Levels – where you customize pricing by the customer type. Advanced Pricing avails your business the ability to set multiple pricing conditions: item-based conditions, customer-based, class-based, and sales rep based. These conditions can also be strung together to set a comprehensive price rule, which is then added to your Price Rules List in QuickBooks Desktop Enterprise.
After establishing your starting point, you can set date ranges for your price rules: when you want it to start; when you want it to start and when you want it to end. To finish the process, you'd set your price to be a percentage or an amount higher, or lower than base price or the cost at which you procure products/services. For a more comprehensive guide on pricing, review our handy pricing cheat sheet.
#4) QuickBooks Payments
Electronic Payment Processing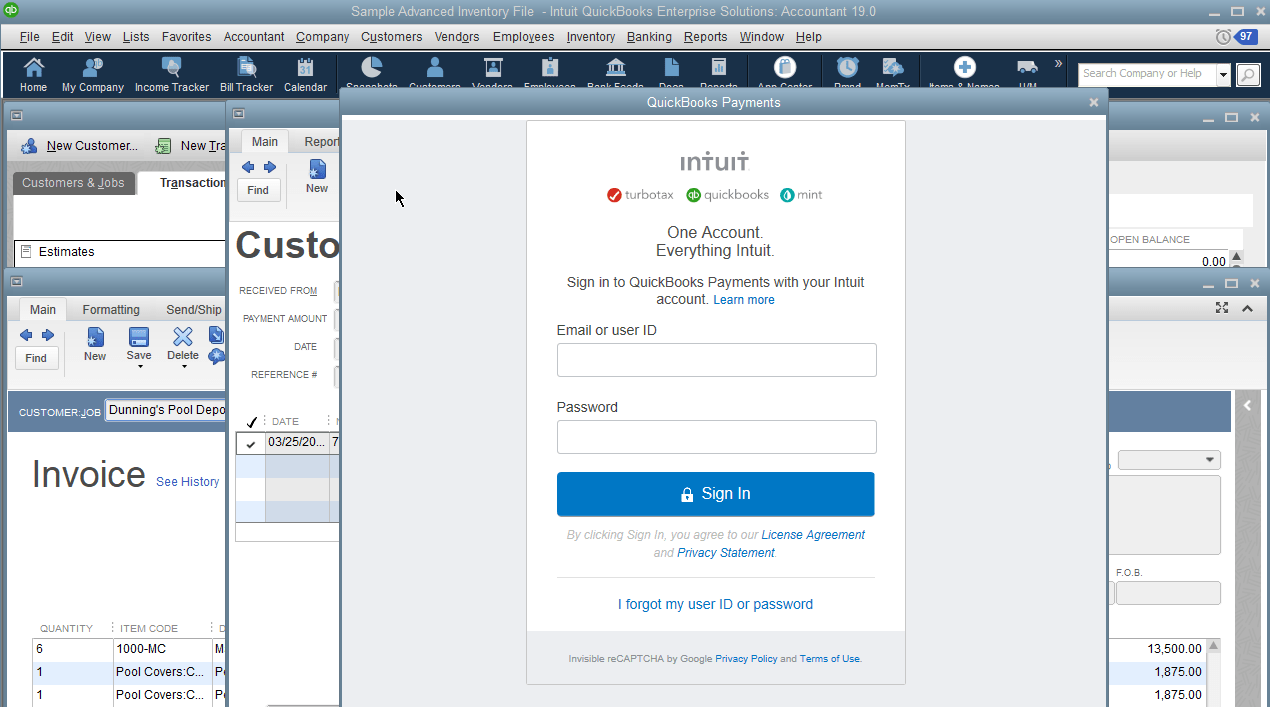 By itself, QuickBooks records events but doesn't process them in real-time, like processing credit card payments. With QuickBooks Payments, or what was Merchant Services, you could integrate them, along with ACH transactions, more seamlessly into QuickBooks Desktop, QuickBooks Online or QuickBooks Point of Sale – linking them to the right customer and transaction. For some time now, your business can also take advantage of mobile card readers with QuickBooks Payments – if it's one of the on-the-go types.
From taking advantage of this comes a tighter invoicing and collection workflow, with customers receiving emails letting them view and pay invoices. This is made even tighter for QuickBooks Desktop users, thanks to its new Invoice Tracker – where you can see the life of a customer invoice from its creation to its payment. Its Merchant Center is the place where your business can review the transactions processed through QuickBooks Payments – purchases by customers or refunds to them.
#5) Field Service Management
Real-time Fieldwork integration with QuickBooks – Desktop or Online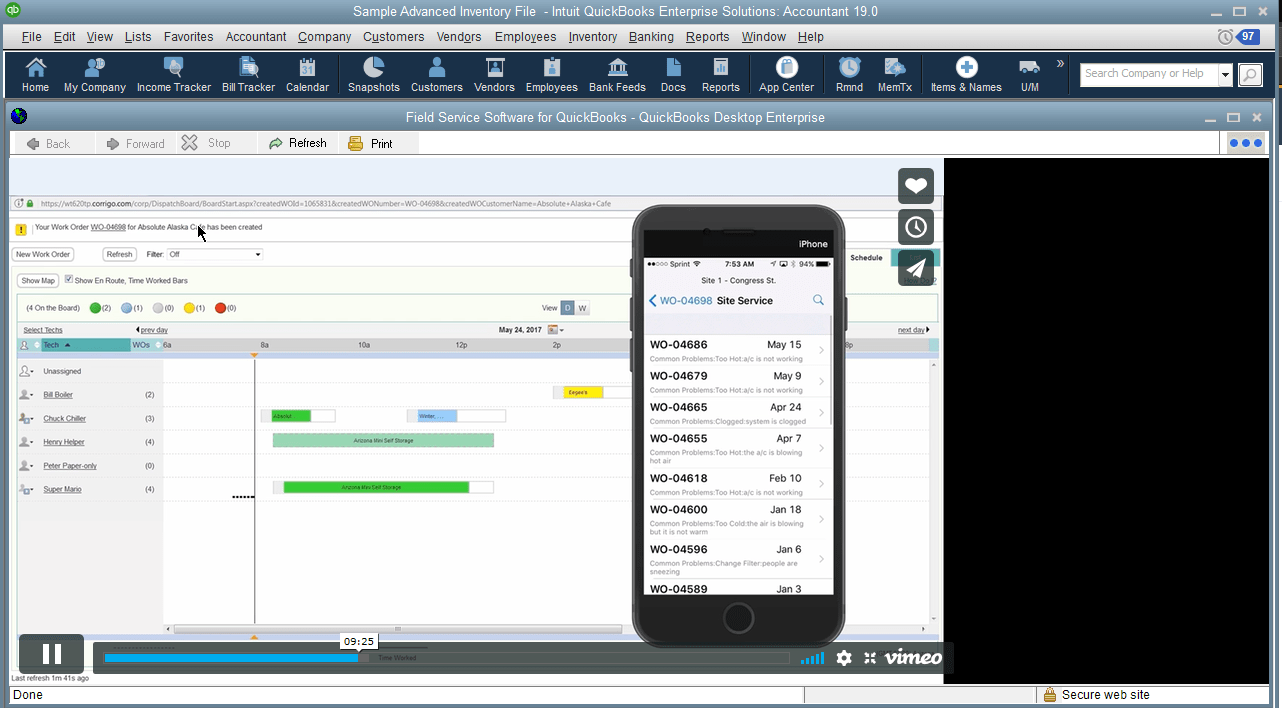 Whether a sole proprietor or a larger scale business, Intuit Field Service Management makes your business agile and adaptive. Establish work orders for services you provide; archive them in your QuickBooks company file; link them to your invoicing and payroll processes; take them with you on the road, authorizing mobile payments through the accompanying mobile app.
Your team will have the ability to schedule, assign/re-assign work orders – by skills, availability, or customer location through an interactive dispatch board, tracking work statuses among your available technicians;  ensure reliable transportation to job sites – thanks to printable mapping and directional guidance via GPS and Google.  Every detail or activity taken on the road will then sync back to your QuickBooks company file in your office – customer list data, item list data, QuickBooks invoices, etc.
#6) QuickBooks Advanced Inventory
More Detailed Inventory Management For Your Business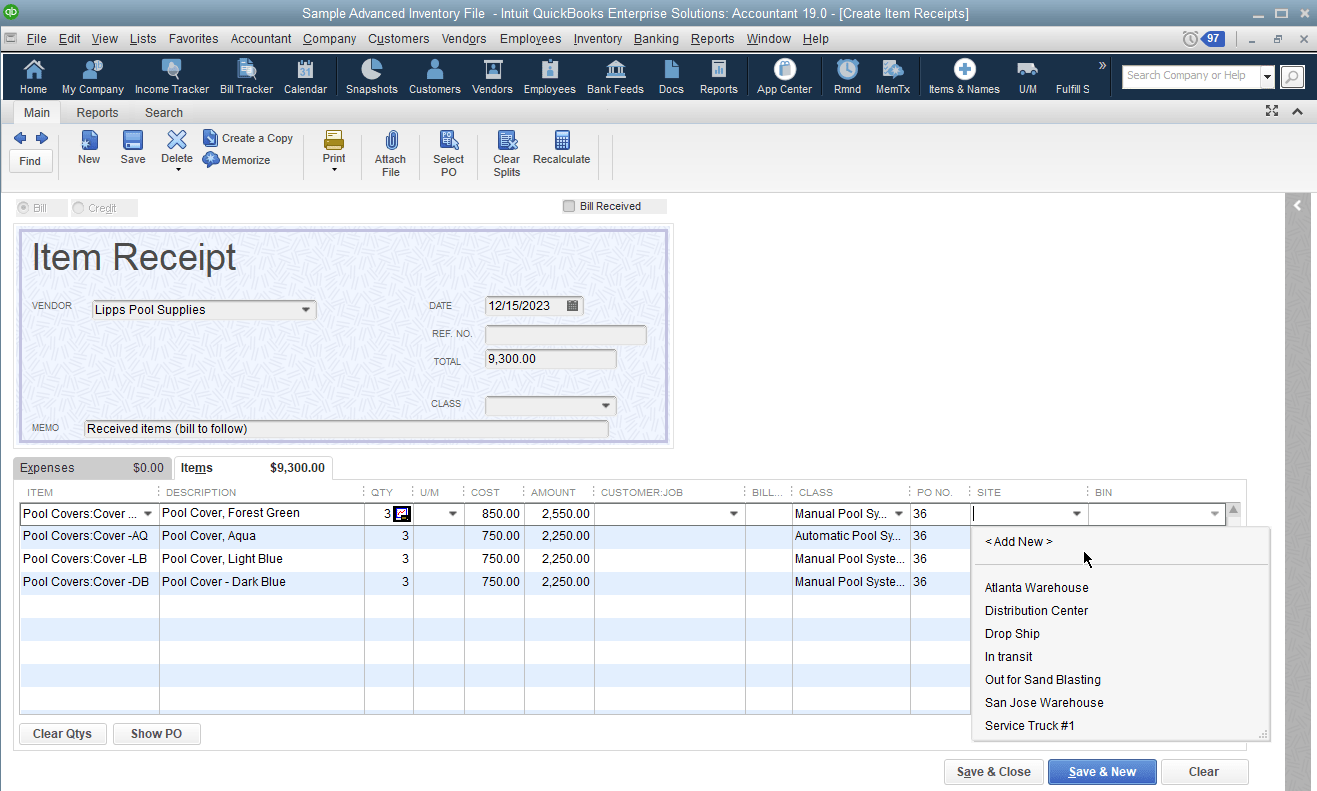 If your business needs to track inventory beyond quantity, cost/price, it can look to adding QuickBooks Advanced Inventory to your organization. With QuickBooks Desktop Enterprise Platinum Edition and enabling the feature, your business will be able to track quantities for inventory sites, bins/rows/shelves; by way of serial number, or lot number;  you will be able to change your costing method – from Average Cost to First In First Out (FIFO); you will be able to catalog your items using barcode scanning. As far as costing or Cost of Goods Sold (COGS) is concerned; and figuring out if your business needs to use one method over another, refer to our inventory guide!

Over the last couple of versions – especially with QuickBooks Desktop Enterprise 2019, the barcode scanning feature has received significant additions. Immediately coming to mind is wireless barcode scanning, where you can finally pull inventory for shipment from your warehouse or manufacturing plant; or, when it comes to inventory replenishment – scanning products back into stock. To enhance applicability of the feature, you can take advantage of fulfillment worksheets for both Sales and Purchase Orders. Warehouse personnel can update information within them using the mobile warehouse app and supported devices (like the MC40 scanner). Those updates will then be reflected in your overall company file for QuickBooks Desktop.
#7) QuickBooks Cloud Hosting
Access QuickBooks from the Cloud without Reducing Functionality
Your business may be one of those who would like to access QuickBooks and your company file from the cloud. You also may have experienced, or know someone else who has, QuickBooks Online. It may or may not have been your cup of tea, needing something you are still used to and assured in what it can do for your business. With cloud hosting you can have the best of both worlds, accessing a fully integrated desktop environment in which QuickBooks Desktop can operate. What's more is your business can significantly improve its agility with users being able to work in any location having remote or internet access.

Cloud hosting providers will also do what they can to ensure compatibility with any supplementary add-ons for your QuickBooks company file. What's more important regarding cloud hosting environments is the security and redundancy provided to your business. What's also nice is if your existing computing equipment is needing an upgrade, or two, adoption of cloud hosting eliminates that concern entirely.
---
As 2019 Moves Along
The year is still young, with plenty of time for you to contemplate making any of the moves to enhance business operations and workflow. Given the care required for successful implementation of any of these options, don't hesitate to make use of your perpetually complimentary consultation – appraising your business; the way you do it; what you can do currently with your existing accounting software ecosystem; what you want your ecosystem to do in the immediate future, or in the bigger picture; and so on.