Online tools have changed many activities in our lives – communication, collaboration, paying vendors and staff, and receiving income.
What is QuickBooks Online?
Because so many of our day-to-day tasks can be accomplished online, they get done faster – as if in real time.  QuickBooks Online can bring that same real-time reliability to your business's accounting.
QuickBooks Online is cloud-based, which makes it easy for your team to track your income, expenses, and other important data in real time from anywhere, on any device. That's because, with cloud-based accounting, your bank and credit card transactions sync seamlessly to QuickBooks. And, they are automatically categorized and matched for you. If you need to collaborate with your accountant, you can do that easily online, too. There's no need to send them a file or grant them server access. You can work together and your accountant can keep your business's books accurate and up to date.
Rather than having to pay for each user in one annual fee, you can add users as needed for one all-inclusive monthly price. That makes it easier to manage your cash flow. Your team can work simultaneously and share data live, without the headache and cost of maintaining a network or paying for an expensive hosting service. QuickBooks Online grows with your business, not ahead of it.
QuickBooks Online Benefits
When your accounting is cloud-based, you can easily integrate the third-party digital tools you already use to run your business. You can also access hundreds of third-party apps that are specialized and industry-specific, so you see and do it all right in QuickBooks. These are just a few of the benefits:
Keep your financial records organized in one place
Access accurate real time data and automatically download transactions
Track expenses or mileage and store receipts
Manage cash flow and get paid faster with professional invoicing
One click sales and tax reporting
Track sales and sales taxes
Work from PC, smartphone, or tablet
"We use the reporting all the time. That's where I get ALL my data. That's where I make my decisions on taking out new loans, paying off loans, P&L balance sheets, assets and liabilities reports, everything. That's my cost center."
–Matt Shaw, Managing Partner, Joli
QuickBooks Online Advanced Benefits
When your business uses QuickBooks Online Advanced, you'll have access to exclusive features like 24/7 premium tech support, a dedicated support team, and a digital library of on-demand training. With enhanced custom roles in Advanced, you can easily delegate more tasks to other members of your team while safeguarding sensitive company data. QuickBooks Online Advanced also comes with a desktop app that has familiar navigation, workflows, and features and lets you stay signed in and switch quickly between company files – so you and your team can skip the learning curve. After you make a seamless transition to QuickBooks Online, you can put the ease and flexibility of the cloud into your workday.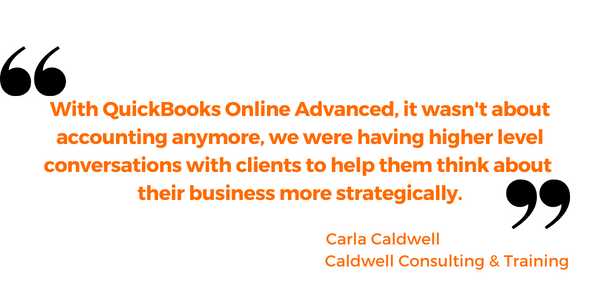 Final Thoughts?
The most important takeaway here is to remember where you can find help. Out of the Box Technology has your back. You can always Talk with an Expert for guidance and support. You can also request a free consultation! We're always here to support your success.
Out of the Box Technology believes in honesty, integrity, and transparency. Our experts wanted this blog to be written after dissecting and interpreting Intuit's messaging. They knew that folks would probably need help with breaking down and digesting the content contained within Intuit's communication.
Schedule Now
[/vc_column_inner][/vc_row_inner]