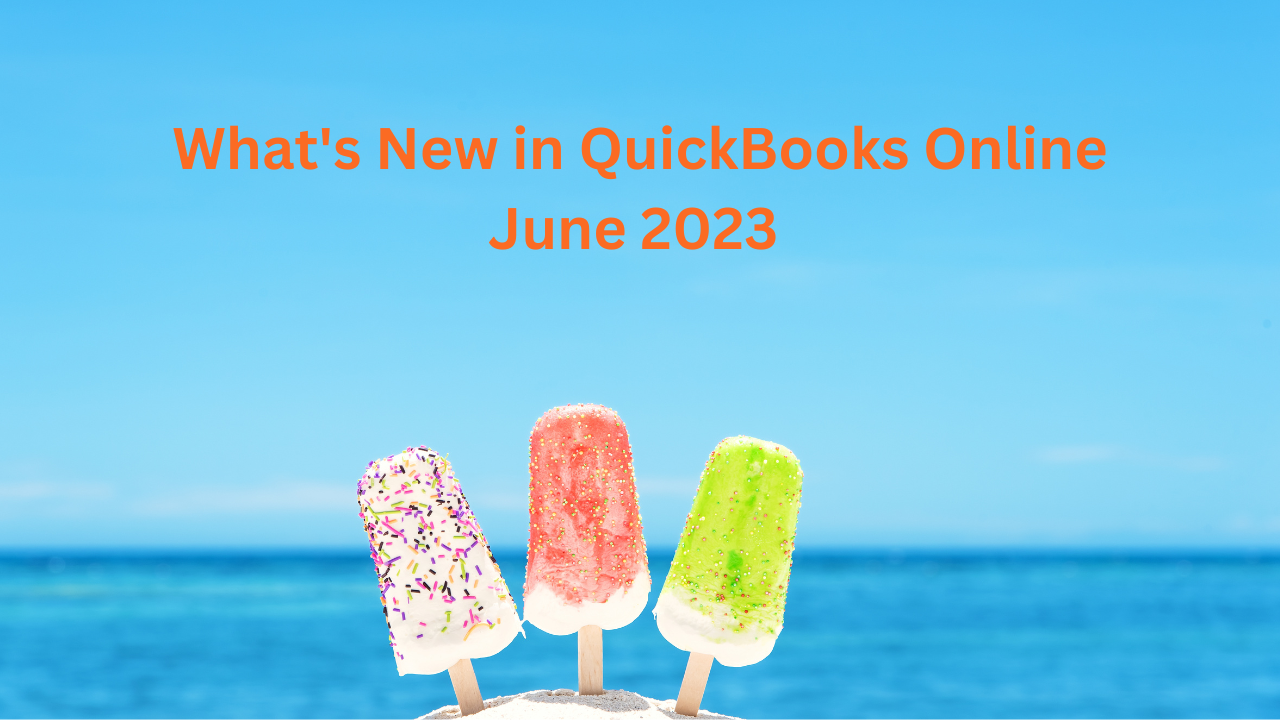 In the dynamic world of business, staying ahead of the game requires efficient financial management tools that can adapt to evolving industry demands. For small and medium-sized enterprises (SMEs), QuickBooks Online has been a go-to solution, empowering entrepreneurs and finance professionals to streamline their accounting processes and gain valuable insights into their financial health. As we move through 2023, Intuit, the creator of QuickBooks, has unveiled a range of exciting updates and features designed to enhance user experience, boost productivity, and provide even greater control over finances. In this article, we will explore the latest enhancements in QuickBooks Online, showcasing how these advancements are revolutionizing the way businesses manage their financial operations and make informed decisions. Whether you're a seasoned QuickBooks user or new to the platform, prepare to discover the innovative tools that are transforming the landscape of online accounting.
What's new in QuickBooks Online June 2023:
Manage users and roles from one page in QuickBooks Online
Streamline payroll and time tracking with the QuickBooks Workforce mobile app
Up to $5 million now FDIC-insured in QuickBooks Checking and QuickBooks Money
More QuickBooks Checking notifications help you stay informed
Safe Harbor 401(k) plans now available through Guideline
New tax feature for sole proprietors in the QuickBooks mobile app
Manage users and roles from one page in QuickBooks Online
SUMMARY: When it comes to assigning and adding roles for your team members, we are introducing a revamped and more user-friendly experience. This simplified process will be available for all users by the commencement of the upcoming month.
You will now have the convenience of managing users from a single page, instead of navigating through multiple steps. This one-page layout will provide a summary of access levels associated with each role, and more detailed information is readily available should you need it. This streamlined process will allow you to confidently register a new team member, assign their role, and send them an invitation to start using QuickBooks—all from one interface.
For QuickBooks Online Advanced users, role customization becomes even more efficient, thanks to the grid view that allows you to select features and determine access levels.
Please note, this updated user experience will not alter any of your existing roles or their associated features. As of now, all U.S.-based businesses using QuickBooks Online Advanced can enjoy this improved layout. Businesses outside the United States using Advanced, Plus, and Essentials, as well as those within the United States using Online Plus and Essentials, can look forward to this new experience by the end of July 2023.

Streamline payroll and time tracking with the QuickBooks Workforce mobile app
SUMMARY: By the end of June, we will be reintroducing the QuickBooks Time mobile app as QuickBooks Workforce. With new simplified features, this app is designed to enhance productivity for you and your employees.
If you're a user of QuickBooks Time and QuickBooks Online Payroll, or even if you've been thinking about it, you'll be able to manage paychecks and W-2s all from the convenience of one mobile app, QuickBooks Workforce.
Furthermore, employees will no longer need to track their hours using the QuickBooks Time app and then switch to a separate Workforce web portal for pay details. They can now handle both tasks using the QuickBooks Workforce mobile app, all secured with a single sign-in.

Up to $5 million now FDIC-insured in QuickBooks Checking and QuickBooks Money

SUMMARY: For those who maintain balances over $250,000 in QuickBooks Checking or QuickBooks Money, you can now be assured that your funds are secured and FDIC-insured up to a limit of $5 million.
Under their new Deposit Sweep Program,* Green Dot Bank now automatically transfers any balances exceeding $250,000 at the close of each business day.
As a reminder, QuickBooks and Intuit function as a technology company and do not offer banking services. All banking-related services are facilitated through our partner, Green Dot Bank.
*Deposit Sweep Program: Cash balances above $250,000 will be automatically swept from Green Dot Bank and equally spread across our participating financial institutions, providing you with up to $5 million in FDIC insurance coverage. Customers are responsible for monitoring their total assets at each institution. Learn more and see a list of participating institutions here.
More QuickBooks Checking notifications help you stay informed
SUMMARY: Customers using QuickBooks Checking can now immediately identify when their account needs attention, with instantaneous, real-time insights and tools to address the issue readily available.
When you're opted-in to notifications, you'll now receive real-time push and email notifications when:
Your account's balance dips below $200.

Your account has insufficient funds for an attempted transaction—and you can click through to a page where you can deposit more funds.

A wrong PIN was provided when attempting to complete a transaction—and you'll also get a prompt to retry your PIN or reset it in the app as needed.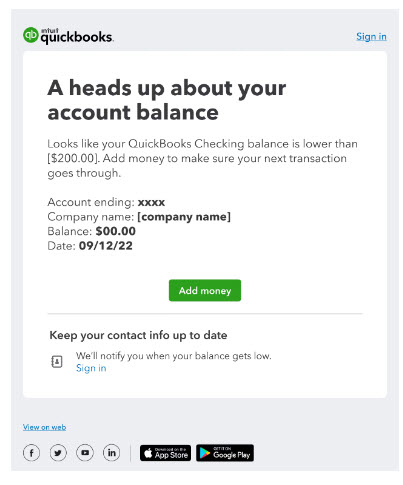 New tax feature for sole proprietors in the QuickBooks mobile app
SUMMARY: For businesses operating as sole proprietorships, the QuickBooks mobile app now introduces a new feature designed to boost your confidence during the tax season.
In the app, if you're on the new experience, you'll see the self-employed tax module which includes:
Deductions:
See payoffs, like real-time taxable profit insights and potential deductions.

Use personalized CTAs to categorize transactions, review trips, and set up a bank if needed.
Estimates:
Get quarterly and annual tax estimates via self-employment tax, income tax, and income outside the business.

Review tax projections mid-year, based upon your year-to-date taxable profit.
Using projections and information from your tax profile, the QuickBooks app can help you as a sole proprietor predict your tax bill and feel a better sense of control over your money.
Note: This update is only available to QuickBooks Online customers who have identified themselves as sole proprietors.