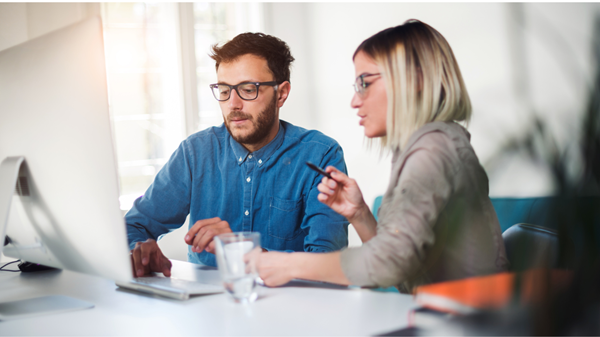 Growing businesses have a lot of questions when it comes to investing in financial management software. What are the benefits? What are the risks? What will be my return on investment (ROI)? As more mid-market business owners outgrow desktop tools, sour on slapdash solutions, and move on from manual accounting methods, they require answers and insights to make smart, informed decisions on their next big technology purchase.
Because accounting professionals love their numbers, especially when it comes to ROI, it's important to understand the immense value that the right accounting solution offers. This is why Intuit commissioned Forrester Research, a leading global market research company, to develop The Total Economic Impact™ of Intuit QuickBooks Online Advanced so business owners like you can see just how much value comes with implementing the right application.

First, that massive ROI: Overall findings indicated a 488% return on investment and a risk-adjusted net savings of $59K over three years (net present value, or NPV) based on a composite organization developed from businesses participating in the study. And while ROI holds great weight in a business owner's technology purchase decision, other key findings include increased operational efficiency with daily financial tasks, better reporting, cost-savings associated with cash flow tracking, and enhanced employee collaboration.
A quick note on study methodology before we dig into the findings: Forrester interviewed six decision makers and surveyed 93 who are active QuickBooks Online Advanced users. Forrester then aggregated the experiences of all participants and combined the results into a single composite organization. That composite organization represents US businesses that are growing quickly, employ approximately 50 people, and make around $15M in annual revenue.
Now, let's jump into the top four business and cost-saving benefits…

Key benefits of QuickBooks Online Advanced
The Total Economic Impact (TEI) study uncovered several operational-enhancing benefits for business owners that may be like you. Findings revealed that users of Advanced noted exceptional value spanning four key quantified areas:
Increased efficiency while performing financial tasks—resulting in a 

30% increase in productivity

.

Increased time-savings via advanced reporting—resulting in a 

16% decrease in decision-making time

.

Elevated cost-savings from tracking cash flow—resulting in a 

50% reduction in loan interest paid

.

Enhanced collaboration via data-driven insights—resulting in a 

16% average reduction in rework

.
The study also revealed several unquantified benefits including the ability to build a custom solution via app integrations, save time thanks to premier support (both during and after solution implementation), enhance employee (user) experience using a highly intuitive interface, support remote work, and add cost savings by decommissioning old software systems.
Each of the top four key findings is detailed below, complete with supporting statistics and unique user testimonials that will speak directly to accounting professionals' love of numbers and results!

Key benefit 1: Increased efficiency while performing financial tasks
Broad consensus among survey participants was that Advanced served as a highly efficient, centralized financial and accounting management hub. On average, participating business owners reported experiencing a 30% increase in efficiency when it came to processing routine financial tasks.
Users noted key features such as the system's dashboards, batch data import and export, workflows, and direct connection to bank feeds to automate daily tasks such as invoicing and account reconciliations as essential capabilities that enhanced efficiency.
Composite data showed that time saved on day-to-day financial tasks is worth more than $45k over a three-year period.

Key benefit 2: Increased time savings via custom reporting
The solution's impressive reporting capabilities allowed the composite organization to quickly generate detailed, customized reports—supporting more informed, profit-driving business decisions. QuickBooks Online Advanced is so intuitive that the team was able to create reports 20% faster, which put them in the hands of leaders far more quickly and led to making core business decisions 15% faster. 
If your firm leans heavily on reporting to make smart, cost-savings decisions (and it's highly likely that it does, just think about what Advanced can do for you in this area. 
Composite data showed that time savings on reporting, overall, translated to more than $11K over three years.


Key benefit 3: Elevated cost-savings from tracking cash flow
If your plan is to progressively grow your business, then you know better than anyone the necessity of understanding cash flow at all times. Interviewees explained that QuickBooks Online Advanced provided them with a far greater understanding of their organization's cash flow because data on current and future cash balances was more reliable and accessible. 
The tools provided in Advanced helped business owners better understand cash flow and future surpluses, which led to negotiating loans with better terms in advance, delaying loans until necessary, or avoiding loans altogether. Take a moment to think about how much your firm could save on loan interest and other fees.
Composite data showed that owners now pay 50% less on interest from loans each year, equating to nearly $10K over three years.
Prior to implementing Advanced, business owners relayed that keeping track of cash could be a major challenge. To gain proper insight into cash balances required supplemental manual analysis via spreadsheets. This proved time-consuming and did not always offer accurate analysis.


Key benefit 4: Enhanced collaboration via data-driven insights
There's no doubt that most managers would agree that better collaboration across departments and roles should be a key objective for any business. But better collaboration requires on-demand access to data and the ability to quickly share insights and results. Once again, Advanced improves this area of business.
Because data is so much more accessible in QuickBooks Online Advanced, interviewees reported exceptional progress in collaboration among team members with ease and efficiency. In fact, an overwhelming 89% of respondents stated that they experienced improved collaboration with colleagues due to Advanced.
Because the solution serves as a centralized financial and accounting hub, team members have immediate access to data-driven insights to keep meetings with leaders and team members productive and on track. Additionally, with so many powerful features, more can be done within the software without the need to supplement work with spreadsheets or other outside solutions. The ability to sync activities within one solution reduces double work and the need for detailed explanation. 
Summary
Before making the move to QuickBooks Online Advanced, the organizations within this study reported great inefficiency with routine financial tasks. Employees were also hindered by lack of visibility into the data—working in outdated or non-cloud-based software that lacked automated, robust functionality. Reporting and tracking of metrics were also very basic, depriving leadership of timely, detailed insights required to make informed financial decisions. And finally, attempts to overcome these common issues with older, outdated systems led to "creative" manual methods that bottlenecked work, drained resources, and created unnecessary friction. 
Respondents reported that they were quickly able to see the value after investing in Advanced. The solution's powerful tools and intuitive interface helped users increase efficiency on financial tasks, produce better reporting, reduce costs via insight into cash flow, and enhance collaboration across team members.
There is no reason why your firm can't experience these same results, including triple-digit ROI, enhanced reporting, deeper insight into cash flow, and improved collaboration across team members. WIth the right solution in place, the sky's the limit on efficiency and cost-saving gains.