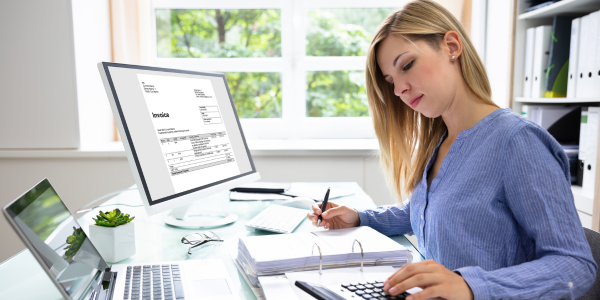 With over 29 million small businesses in the U.S. using QuickBooks, it has established a dominant position in the accounting software market, holding an 80% market share. QuickBooks offers a range of products that cater to the needs of small businesses (QuickBooks Online), larger companies (QuickBooks Enterprise), and everything in between (QuickBooks Pro, QuickBooks Premier). As companies expand and become more complex, they may feel that they have outgrown QuickBooks and consider switching to other enterprise resource planning (ERP) systems, such as Oracle's NetSuite and SAP. These alternatives come with a high price tag and a lengthy conversion cycle, however.
Read on as we will discuss the notable disadvantages of transitioning to an ERP system and share some tips on how to prolong the usefulness of your QuickBooks solution. Although upgrading to a more advanced software package may seem like a sign that your business has achieved greater success, it does not necessarily equate to increased value. Here are a five reasons why sticking with QuickBooks is beneficial to your business.
QuickBooks Is Scalable
If you are currently using QuickBooks, there is no need to install a completely new system. By adjusting a few settings and reviewing permission levels, your business can easily optimize its use of QuickBooks. Thanks to QuickBooks' advanced data security and permission levels, your business can maintain data integrity throughout its growth. QuickBooks offers a range of industry-specific modes, including retail, nonprofit, manufacturing, and wholesale, ensuring that it can accommodate your business's needs regardless of its direction of growth. Whether your business deals with industry-specific transactions or higher levels of transactions, QuickBooks is equipped to handle it all.
QuickBooks Integrates Seamlessly With Many Other Systems
Besides offering services such as setup, file review and repair, and training, our company specializes in workflow design and custom programming, which are essential for many businesses. Nowadays, most companies rely on multiple software systems to perform various important functions. Integrating these systems not only saves time and money, but also minimizes the risk of errors and duplication of effort. Although QuickBooks has a semi-open API, there is limited documentation available. Luckily, we have a team of skilled custom programmers who can seamlessly integrate QuickBooks Enterprise with almost any product that has an open API. Our integration services cover a wide range of systems, including CRM and sales systems, proprietary software, and project management solutions. While these integrations require an initial capital expense, they offer significant benefits in the short and long term, freeing up staff time from administrative tasks and providing valuable insights into the company's operations. In particular, these integrations enable better visibility into how different departments impact each other and provide more accurate financial data.
QuickBooks Enterprise Has Industry-Specific Solutions
One of the reasons a company might feel they've outgrown QuickBooks is to add more tools or meet specific industry requirements. However, industry-specific accounting and ERP systems are often poorly documented and updated less frequently. They also can make hiring difficult since staff needs to be trained on a niche system, rather than a cross-industry standard
QuickBooks Enterprise has solutions that meet the needs of:
Manufacturing and Wholesale
Contractor
Nonprofit
Retail
Electronic Data Interchange (EDI)
These industry-specific solutions include all the functionality of QuickBooks Enterprise, but with specific features and reports unique to the industry.
You Likely Don't Have The Manpower For A Switch
Switching to a robust ERP system usually takes at least six months and during that period, your staff will have to enter data twice – once in the old system and once in the new. If your company is growing rapidly and has outgrown QuickBooks, your staff is likely already stretched thin and performing multiple roles. This conversion process will take away precious hours that could be better spent building your business and serving customers.
Moreover, the complexity of a higher-level system requires additional manpower to manage. Typically, a consultant from the new ERP staff will be responsible for building your system and workflows, migrating the data, and training your team. Many companies also hire external consultants on retainer to perform updates, troubleshooting, and data cleaning, providing unbiased advice. However, these additional consultants come at an additional cost, and you'll need a point person on your team to coordinate with them. Each department will need to review proposed workflows, click through every screen of the new system, and report any issues they encounter, which will require time and effort. You'll also need to allocate time for training and updating all your documentation to reflect the new system's processes. If you don't think your team can reasonably commit approximately 1,500 hours to the conversion project, we recommend staying with your current system a little longer.
QuickBooks Enterprise Has A Large Data Capacity
When configured correctly, QuickBooks Enterprise can handle larger data file sizes, allowing you to track up to one million vendors, customers, inventory items, and employees. This capacity is typically sufficient for most mid-sized businesses, and even departments within some Fortune 1000 companies. Many QuickBooks users believe they have outgrown the software when they haven't even approached the maximum number of data points. Sometimes, issues or sluggishness with the software can be attributed to improper setup or an inadequate environment, such as insufficient space on the hosting computer, rather than QuickBooks' actual limitations.
Still Think You've Outgrown QuickBooks?
In conclusion, QuickBooks remains a powerful accounting software that can be optimized to meet the needs of most growing businesses. While other ERP systems may offer more advanced features, they often come with a hefty price tag and a lengthy conversion process that can be disruptive to business operations. By leveraging QuickBooks' scalability, industry-specific solutions, and integration capabilities, businesses can continue to thrive and avoid unnecessary expenses. We encourage businesses to take a closer look at their current systems before making any hasty decisions about switching to a new ERP system. By doing so, they may find that sticking with QuickBooks is the most sensible and cost-effective solution for their needs.
Meet with a QuickBooks product expert today! 
Schedule a complimentary QuickBooks product consultation to find our which version of QuickBooks is best suited for your needs. By purchasing your software licenses through an Elite QuickBooks Solution Provider like us, you are guaranteed to get the best prices possible on all QuickBooks products.
Meet Today