Every QuickBooks user has experienced a situation where support is required to identify a solution for a technical issue or have a question answered. When this happens, the initial courses of action that typically come to QuickBooks users' minds are 1) requesting support in-product, or 2) calling 1-800-4INTUIT (1-800-446-8848). And, let's face it, Intuit Technical Support is more than adequate to meet the needs of users who are experiencing technical difficulties or need questions answered. However, when users' requirements are more complex and necessitate help from highly skilled professionals with industry accounting experience, where do users go for support?
When your QuickBooks needs are too complex for Intuit to take on, such as requesting a custom-built report, conducting an optimization analyses of critical workflows, or inquiring about QuickBooks training, you may feel like there is nowhere to turn. There is much ambiguity around what your best next steps might be, which doesn't help the situation. Well, we're here to tell you that there are a few different options available for these users, and we highly recommend one of those options: Contact an official Intuit QuickBooks Solution Provider (QSP).
In this article, the few options you have available to you will be analyzed and the pros and cons of each option will be outlined, followed by an explanation of our recommendation. It's important to know that there are solutions out there, and with the right resources: if you can dream it, you can achieve it!
Talk with an Expert Today
We do Anything + Everything QuickBooks, and there's no task we can't handle!
Our industry-expert certified ProAdvisor consultants will provide you with valuable optimization insights and procure solutions for any and all QuickBooks-related challenges you have.
Talk with an expert
[image]
Your QuickBooks Support Options
When it comes to your complex QuickBooks support, you have a few different options available to you:
There are pros and cons associated with each of your options, and a lot of your decision boils down to why you require QuickBooks support and what your preferred process is. At the end of the day, the most important things are that your issues are resolved and your goals are achieved. It is our hope that this article will help you with that.
QuickBooks Support: Contact Intuit Technical Support
Contacting Intuit Technical support is a good solution for help with quick and easy fixes and obtaining answers to basic QuickBooks questions. Intuit Technical Support specialists tend to be moderately-to-highly trained product technicians, especially in the higher tiers of support. These specialists have the know-how to help with basic QuickBooks issues and answer basic QuickBooks product questions. However, their limitations begin at the gray line between the product and accounting.
Since QuickBooks is an accounting application, the lines between accounting and the product can become easily blurred. Intuit Technical Support cannot provide any sort of accounting help or advice, such as how to optimize your Chart of Accounts for your accounting workflows. They can provide help with product instructions, on how to set up a Chart of Accounts for example, or how to utilize a specific feature within QuickBooks. However, because they cannot cross that line, they will be quick to tell you that they cannot provide you accounting help or advice if you ask about "how you should" do something. Think more along the lines of "how" to do something.
So, in summary, Intuit Technical Support is a good support option to pursue if you need help with "how-to" product knowledge and/or if you are experiencing any technical issues with your QuickBooks application.
QuickBooks Support: Find a ProAdvisor Online
Your second option would be to find an independent ProAdvisor online to help you. Independent contractors and small-firm ProAdvisors typically have the skills and expertise to help with small tasks that require blended knowledge of QuickBooks and accounting. Unlike Intuit Technical Support specialists, ProAdvisors mainly operate as independent contractors and, because of this, they are able to provide accounting advice and expertise. While finding a ProAdvisor online is a better option than contacting Intuit Technical Support when you have complex QuickBooks issues or needs, there are a few critical limitations with independent contractors and small-firm ProAdvisors:
Not All ProAdvisors are Created Equal
Don't be lured by phony ProAdvisors with flashy, unofficial "certifications" and unconventional claims of influencing client success. If they can help you same-day, be cautious, since most reputable, established professionals have a pipeline of clients scheduled. Typically, you will have to wait between 1-12 business days, depending on the current demand. Make sure you partner with certified ProAdvisors, with strong accounting experience, that you can vet and trust (or part of a credible, established service provider that you trust). There are "bad actors" in this space and be sure to be cautious of imposters.
In order to become a certified ProAdvisor, one must pass a series of exams provided by Intuit. These exams test on the usage of the product(s) one is testing for, and basic accounting principles. While this knowledge is important, it is not enough to provide expert guidance for complex QuickBooks needs. Having a background in small business accounting is a critical experience piece for an expert ProAdvisor. Knowing the principles and reasoning behind why things are set up the way they are, understanding accounting workflows, and knowing what success in accounting looks like is not a ProAdvisor requirement. Yet, without that experience, how can you expect your ProAdvisor to be able to help you optimize your business?
The fact of the matter is, some ProAdvisors are accountants, and some ProAdvisors are bookkeepers. And some ProAdvisors are neither accountants or bookkeepers. So the real challenge you may face when searching for a ProAdvisor is determining whether your ProAdvisor possesses the skills and experience required to help with the tasks you need them to perform. When it comes to customization and optimization, picking the wrong ProAdvisor can cost you quite a bit of money.
ProAdvisors Often Lack Support
Most ProAdvisors are independent contractors that are self-employed or work for small firms that offer QuickBooks services, such as bookkeeping and product consultations. Often, ProAdvisors that fall into either of these two categories lack access to the resources and support that ProAdvisors do, who have the backing of a larger, stable company. ProAdvisors from larger, stabler, and more mature industry lifecycle firms tend to have access to a host of valuable resources, such as:
The backing of a team of other highly skilled, certified ProAdvisors to collaborate with – Our ProAdvisors benefit from shared experiences, a reliable internal ProAdvisor support network, and enjoy more flexibility with scheduling
The backing of an entire organization so they can focus strictly on working with clients – Independent contractors do their own Accounting, Administrative work, Finance, Marketing, Sales, and various other functions of business necessity
Continued education professionally sculpted for learning and retention – Optimized learning content from dedicated Enablement and Training Managers to ensure maximum impact
More service package offering and pricing flexibility – Standard hourly billing (used by most ProAdvisors) is often not the most cost-effective method for clients, who end up overpaying on project work
QuickBooks Support: Contact a QuickBooks Solution Provider
For help with all of your complex QuickBooks needs, contacting a QuickBooks Solution Provider for help is your best bet! When you hire an external entity to undertake your QuickBooks project, you want to partner with a ProAdvisor inside an organization that has the resources and support behind it to overcome any obstacles that arise. And not all QuickBooks Solution Providers are created equal, either! There are ProAdvisors that have affiliations or strategic partnerships with QuickBooks Solution firms, and then there are ProAdvisors who are internal to these organizations (on their payroll as full-time employees, NOT contracted 1099s). The latter is what you want, as the goals for the client are in alignment between the ProAdvisor and the supporting organization – assisting you (the client) with your QuickBooks needs, AND having the resources to do so most effectively!
All too often we hear the horror stories of clients who need their QuickBooks files cleaned or restored due to getting talked into partnering with external ProAdvisors who do not have the support of vital support resources and are too concerned with generating Return On Investment (ROI) to keep their firms afloat. These ProAdvisors can be ilequipped to properly handle complex QuickBooks tasks, pressured to sell unnecessary products and/or services, and, importantly, can be misaligned with a client's actual needs – they commonly do not conduct complete consultative discovery to identify all client pain points.
Honesty and integrity
Our QuickBooks Support Recommendation
As previously stated, we highly recommend that you contact an official Intuit QuickBooks Solution Provider (QSP). And not just any QuickBooks Solution Provider, an Elite QuickBooks Solution Provider! An official Elite QuickBooks Solution Provider, such as Out of the Box Technology, is regarded by Intuit as one of the chosen few providers that are best equipped with handling the widest variety, and largest scale, customer requests, with the highest level of service and quality.
Now that you have a sound understanding of your support options, a clearer picture of the QuickBooks Solution Provider program, and you know our suggestion to Contact an official Intuit QuickBooks Solution Provider (QSP), we trust you will now be able to best obtain support for your more complex QuickBooks needs!
Talk with an Expert Today
We do Anything + Everything QuickBooks, and there's no task we can't handle!
Our industry-expert certified ProAdvisor consultants will provide you with valuable optimization insights and procure solutions for any and all QuickBooks-related challenges you have.
Talk with an expert
About Us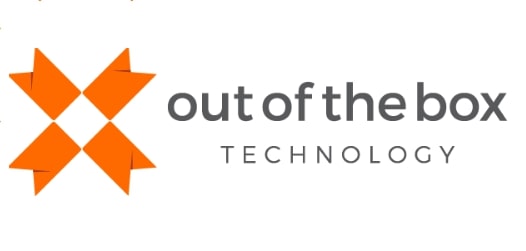 Out of the Box Technology is an Elite QuickBooks Solution Provider (QSP). We provide our clients with QuickBooks products and end-to-end Business services and Data services through our talented team of in-house ProAdvisor Advanced Consultants, possessing over 500 years of combined QuickBooks experience. Armed with our "SauceBox ApproachTM," Out of the Box Technology's Advanced Consultants live up to our motto, "Anything + Everything QuickBooks." Contact us and let us show you the best possible client experience, every single time! And don't forget to check out our Company Blog for Free Resources, valuable How-To's, and TONS of frequently added QuickBooks content!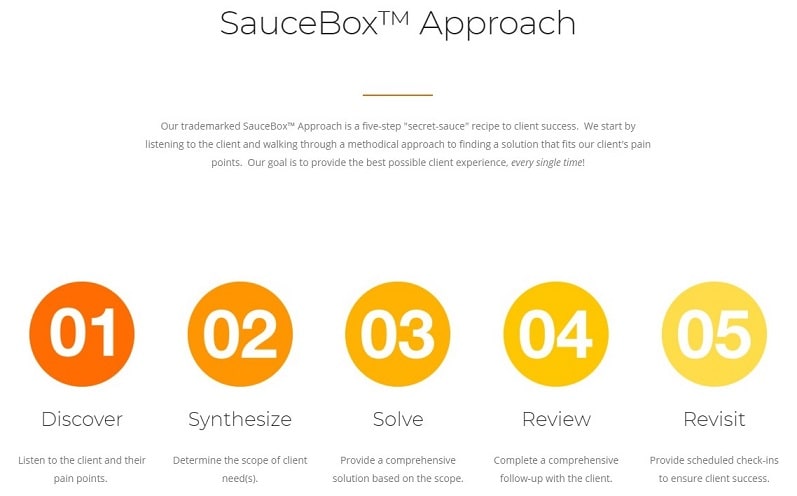 What is Our SauceBox™ Approach?
Our SauceBox ApproachTM is the internal process that we developed specifically to better serve our clients.  This is essentially a five-step secret-sauce recipe to client success.  We start by listening to the client and walking through a methodical approach to finding a solution that fits the client's pain points.  Our goal is to provide the best possible client experience, every single time!