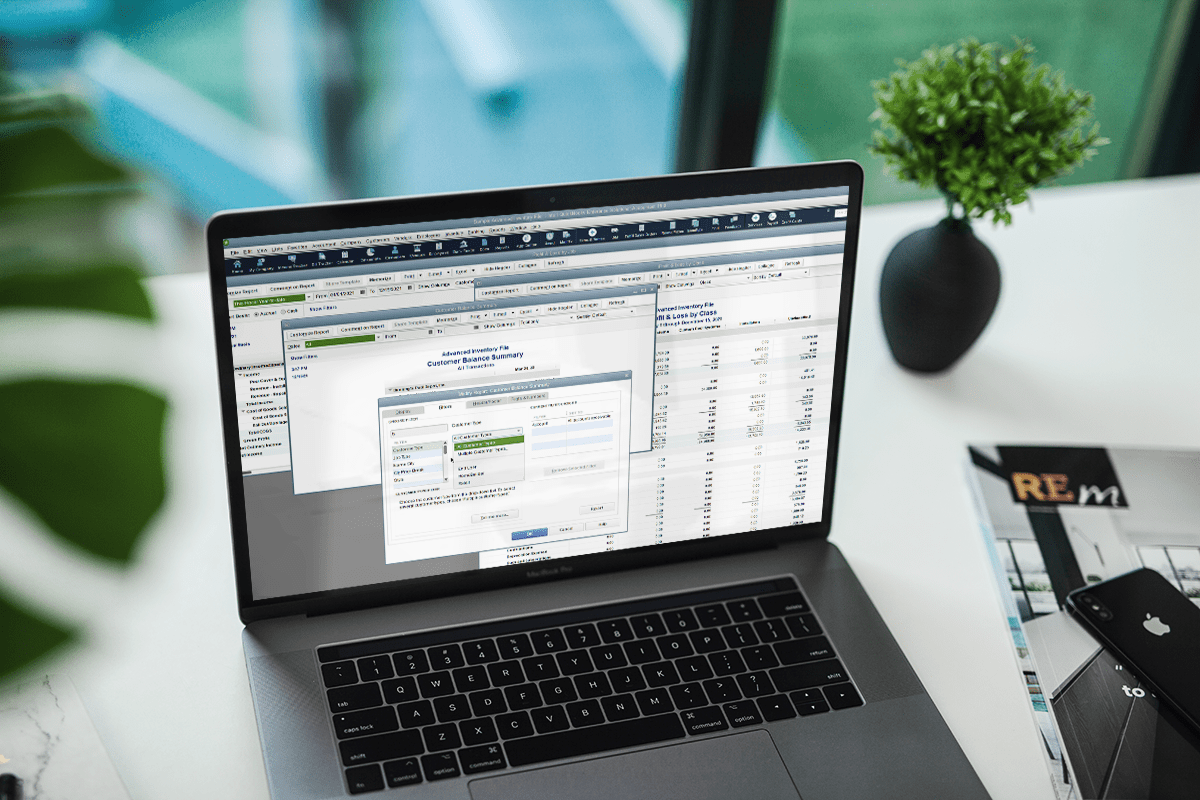 QuickBooks' standard reports are critical to understanding your company's past, present, and future. But the program also offers innovative tools that can make them significantly more insightful and comprehensive. QuickBooks offers two simple conventions that let you identify related data: classes and types.
What is the Difference Between a "Class," and a "Type" in QuickBooks Desktop?
Classes are used in transactions.
Types are assigned to individual customers, vendors, and jobs.
For example, you might use classes to separate transactions that relate to different departments, locations, or types of businesses.
A construction company might want to track classes using "New Construction," "Remodel," and "Overhead." Your customer types might help you isolate groups by characteristics like their industry or geographical location.
Where Do I Go to Turn on Class Tracking in QuickBooks?
First, make sure that QuickBooks is set up to use classes by:
Going to "Edit," at the top menu
Then to "Preferences"
Within "Preferences," click "Accounting"
Clicking the "Company Preferences"tab
Make sure that "Use class tracking for transactions" is checked. If you want to be prompted for a class designation in transactions, check that box, too.
How Do I Work with Classes in QuickBooks Desktop?



Adding Classes Starts From the Lists Menu
To define classes:
Go to "Lists"from the top menu
Then, clicking "Class List."
In the bottom left corner of the "Class List" window, click on "Class," with the downward arrow
Then select "New" from the menu. You'll see this:
Let's say that you're a contractor and you want to separate remodeling jobs into room types, like Bathroom or Kitchen. Go through the above steps again. Enter "Bathroom" in the Class Name field and click the box next to Subclass of. Open the list and choose "Remodel." Click OK.
Like With Any List in QuickBooks Desktop, the Class List Can Shrink and Grow with Your Company
If your class list grows lengthy and you want to tidy it up, you can make classes that you're not currently using inactive by checking the box in this window. It will remain in your QuickBooks records and can be reactivated again.
Another way is to right-click onto any highlighted class in "Class List," then clicking onto "Make Class Inactive."
You can also toggle the viewing of every class, just like with any other list in QuickBooks Desktop. From the "Class List," click on the option "include inactive."
Where Do I Apply Class Tracking in QuickBooks Desktop?
Now you can use classes in transactions. Open a blank invoice and select a customer. The Class field will be next to the customer name. If the entire invoice will be assigned to the same class, click the drop-down list and select it.
QuickBooks Desktop Form Customization Helps Individualize Class Tracking
You can also assign separate classes to individual line items. Not all invoice templates include a column for classes. You can add this by selecting the invoice form you want to modify from the "Templates List."
From the "Templates List," double-click the chosen template, then click "Additional Customization"
Don't be surprised, depending on the template chosen to be customized, when you're prompted to make a copy of the template.
A copy of any template, especially one you highly customized to be the face of your company, will save plenty of time in re-creating it due to it being damaged. A sign of a damaged template is not getting a response within the form, when you're changing properties – like class, item, print, etc. If you do run into something similar to this, reach out to our ProAdvisors to make sure it's a damaged template or not.
Once you confirm your choice, you will be taken to the "Additional Customization" window. From here, you can enable the "Class" column, under the "Columns" tab.
Once enabled, you will see the individualized class tracking for each item.
QuickBooks Desktop Class Tracking through Reporting Customization
QuickBooks comes with two reports specially designed for tracking class-based transactions:
Profit & Loss by Class
Balance Sheet by Class
Both can be found in the Reports menu, under Company & Financial. Of course, you can customize and filter other reports to include a class column.
You can also create a "QuickReport" for individual classes, by going to "Lists," then "Class List," and select a report or graph.
What You Need to Know about the Balance Sheet by Class Report in QuickBooks Desktop
The Balance Sheet by Class report is complicated and may produce unexpected results. Let your ProAdvisor help you work with this one. They can also help you set up a solid class structure.
What Should I know About the "Types List" in QuickBooks Desktop?
Customer, vendor, and job types are a bit less complicated. Job types are especially useful; you can track, for example, profitability and time spent on individual projects. Customer and vendor types can produce output for things like targeted mailings and reports.
How to Add "Types" in QuickBooks Desktop
Creating types is very similar to creating classes.
Go to "Lists"
From there, go to "Customer & Vendor Profile Lists," and select the type you want to work with.
You'll follow the same instructions here as you did for classes.
For example, you want to make a customer type. Just click on "Customer Type List." From there, fill in the information you want enter, just as you would when making a class.
Assigning Vendor and Customer Profile Types in QuickBooks
The key consideration is "types" do not appear on transactions; they're designed for your own internal use, and are stored in records.
Specifying Types in QuickBooks Desktop Reporting Filtering and Customization
Customer, Vendor and Job Types provide specificity to reports in QuickBooks Desktops.
Once it's open:
Click "Customize Report"
Going to the "Filters" tab.
From there – within "Choose Filter" – type "Type
In this specific reporting scenario of a Sales by Customer Detail" report, you can start with filtering for certain Customer Types. If your customer list contains "Jobs" under parent customers, you can filter for job types as well.
Customizing QuickBooks Reports for Specifying Class & Type
Classes and types can be used very effectively in reporting. As demonstrated, you can see "Class" can be on display in the report as one of the columns.
From that, you will easily spot trends when a particular class (or a set of classes) appears frequently enough. Further, you can filter for both classes and customer types to get a better idea of what customers and types of them are generating the most in sales, for a given period of time.
Bringing Classes and Types into Everyday QuickBooks Use
QuickBooks classes and customer & vendor profile types can play a crucial role in your bookkeeping, but they require a good deal of thought and planning upfront to get accurate, meaningful reports. May this quick tutorial help you get a leg up on the process; and helps things not be overwhelming.
If you do have additional questions or run into unexpected trouble, let our ProAdvisors know! We can assist as you attempt to use these powerful forms of classification. Contact us by phone at (503) 885-0776 or emailing customercare@ootbtechnology.com