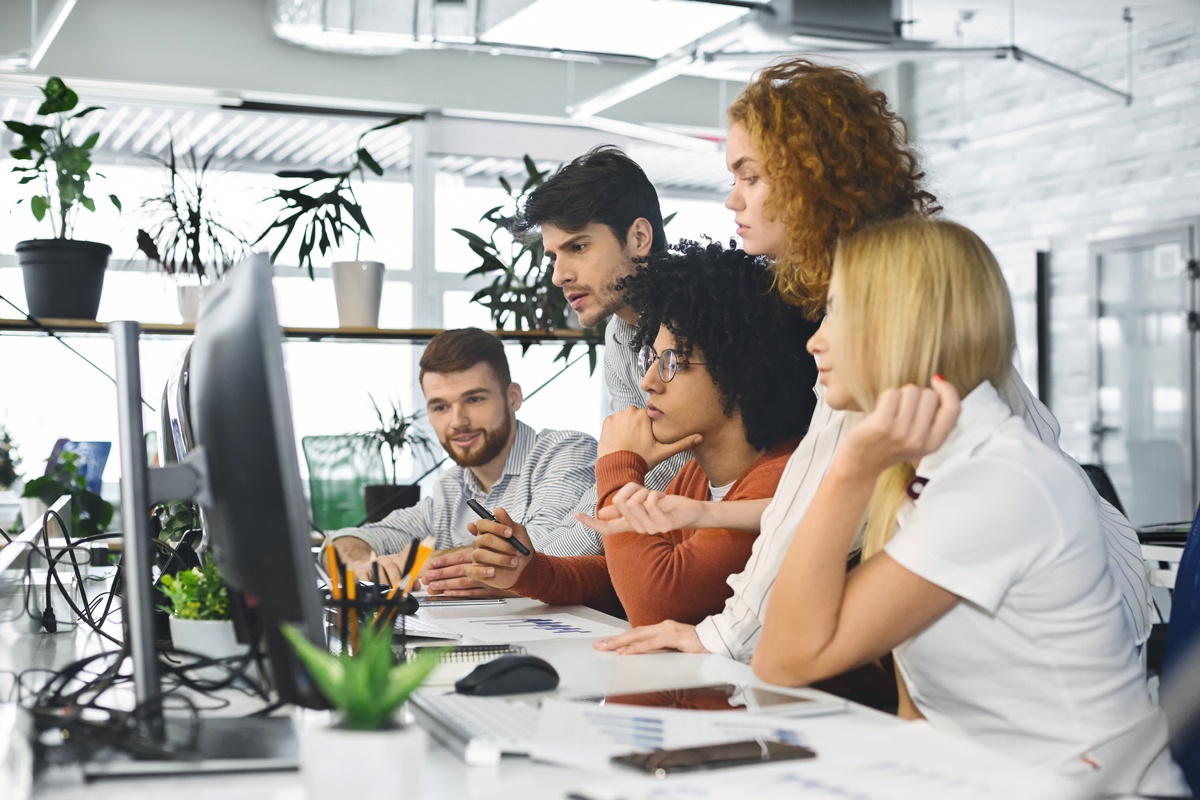 So, you want to know why you should consider switching to QuickBooks Online? Choosing an accounting solution can be a very complex process for any business. There are many factors to consider when determining which accounting solution will be a best-fit. Equally, some of these decision points are obvious, and others you wouldn't even think to examine. Nonetheless, failing to assess these elements in your determination may result in a sizeable commitment without reaping maximum benefit. You can also find yourself overpaying for features that you do not need. Therefore, before you consider switching to QuickBooks Online, make sure you review the feedback from our expert ProAdvisors. 
Join the Future of Small Business Accounting Solutions
Ditch QuickBooks Desktop & Switch to the Cloud Now!!!
Make the switch before July 15th, 2021 to earn a perpetual (lifetime) discount!!! See if you qualify today!
20% perpetual (lifetime) discount for new QuickBooks Online Essentials & Plus subscriptions
15% perpetual (lifetime) discount for new QuickBooks Online Advanced subscriptions
Talk with an expert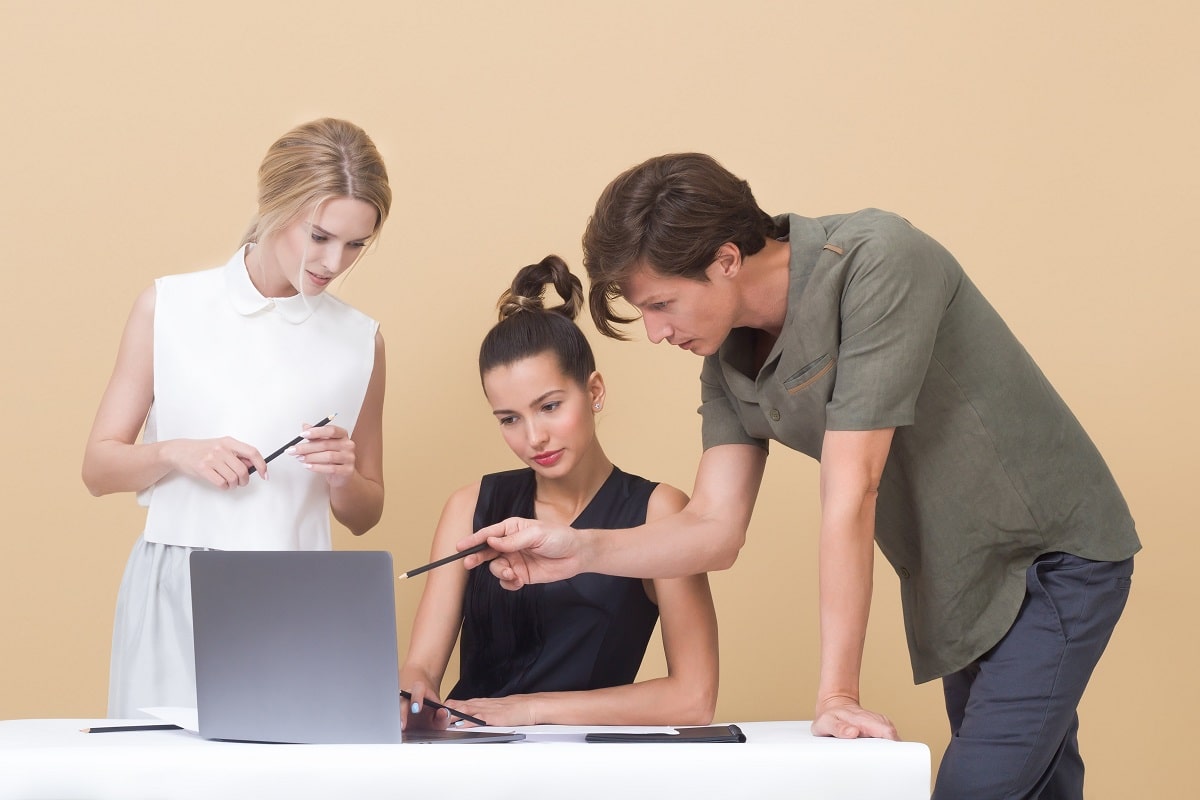 Considering the Right Solution for Your Business
Explaining how to choose the right solution for your business is nearly as tough as the decision itself. Because every business is unique, along with it's own challenges and goals, there is no one-size-fits-all solution.
Additionally, it is impracticable to determine what all of your future business needs will be and when you will need them. You may be able to forecast a few needs based on your growth timeline/trajectory, but not all of them.
Our experts recommend making a list of the most important checkboxes that your chosen solution needs to tick. Next, you will list-order them from most important to least important, and get your accountant's input on your list-order. Once you have made your list, compare your list with the product specifications of all the solutions you are considering. It is often helpful to make copies of your list so you have one copy per solution. Be sure to list out any other costs associated with add-ons, upgrades, downgrades, and even making an exit. This is the best way to determine the right solution for you at your current point in time.
But what if you are starting to outgrow your current solution or your business needs change? What if you think another solution may be a better fit?

Considering a QuickBooks Online Solution
So, you'll consider switching to QuickBooks Online. Well, if that is the case then there are a few things you should know. With QuickBooks Online, there are several key benefits that correspond with all tiers of this product suite. These particular key benefits are reported to be the most important/popular with QuickBooks users. Because of this, we posted them here so you'll be exposed to them first. If you're not interested in any of these features then QuickBooks Online may not be a good switch for you. Otherwise, we encourage you to continue reading on. Either way, our recommendation is that you Talk with an Expert and determine which solution is right for you.
QuickBooks Online key benefits:
| | |
| --- | --- |
| NO Accounting Experience Required! | do everything you need to do as simply as you did it on QuickBooks Desktop |
| Seamless Data Migration | effortlessly move your QuickBooks Desktop data over to QuickBooks Online |
| Seamless App Integration | easily connect with any Apps, listed in the QuickBooks Online App store, that already in place |
| Cloud Accounting System | means you'll be able to access your QuickBooks data anywhere, and on any device, with an internet connection |
| Monthly Billing | NO expensive per-period costs – you pay a much smaller, more easily-manageable monthly subscription fee |
| Extra Protection Included | your information will be backed up and secured on a firewall protected server for ultimate security |
Additionally, there are many more process-oriented benefits that intensify the allure of switching to QuickBooks Online, which we'll discuss.
Benefits of Switching to QuickBooks Online
The Facts
3 out of 4 customers feel they get more work done with QuickBooks Online vs. QuickBooks Desktop
3 out of 4 customers feel QuickBooks Online is a better fit for their business
3 out of 4 customers would recommend QuickBooks Online to their friends
As of 2017, there were over one million small businesses benefitting from using QuickBooks Online
The Details
QuickBooks Online gives you more freedom to run your day — your way. Speed, simplicity and flexibility all come from working in the cloud, with less data entry and real time collaboration with your tax and accounting professional. Get paid twice as fast, work from anywhere, and get answers anytime!
So, if sipping Mai Thai's on Kaʻanapali Beach while processing your payroll suits your fancy, then QuickBooks Online is your savior!
Moving to the cloud and leveraging small business apps automates and simplifies back-end operations. QuickBooks Online can solve many complex needs like accounting, invoicing, and managing customer relationships. When you sync Apps to QuickBooks Online, all the business software works together, and data is entered only once.
Let automation do more of the work for you – so you can do more sipping and less clicking!
Features Only Included in QuickBooks Online
This is a list of the features that are only included in QuickBooks Online.
Activity Logs: Logs that allow tracking of all amendments to business data, along with the associated user.
Automated Bank Transaction Downloads: Setup automated downloads of bank transactions.
Automatic E-reporting: Setup automated email transmissions of financial reporting to specific users at specified frequencies.
Delayed Customer Billing: Allows customer invoices to be created and tracked later.
Location & Class Tracking: Better analyze your business via class creation and departmental account balance tracking.
Sales and Invoice Automation: Automate the sending of separate or batch invoices.
QuickBooks Online Feature Comparison Chart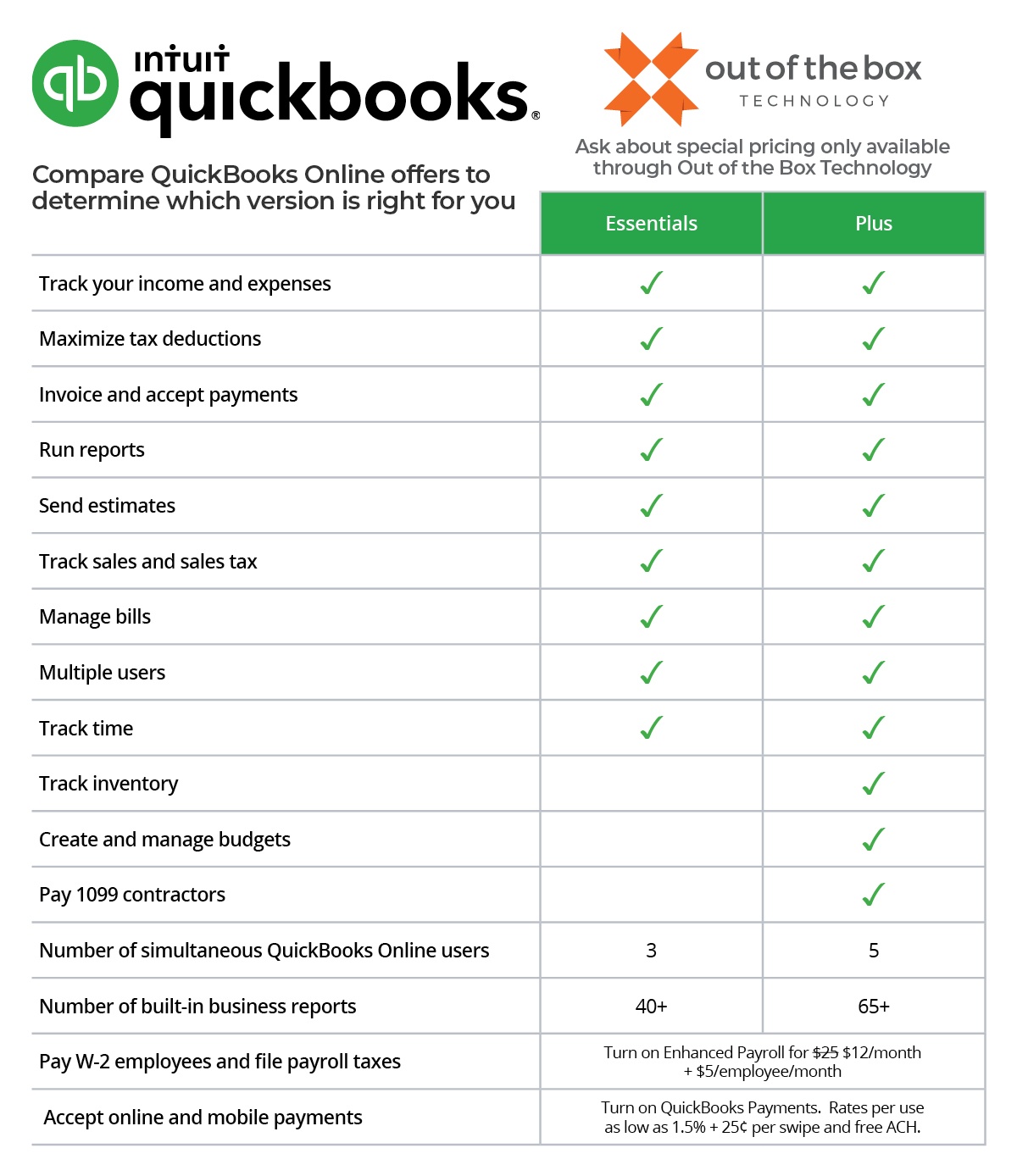 Join the Future of Small Business Accounting Solutions
Ditch QuickBooks Desktop & Switch to the Cloud Now!!!
Make the switch before July 15th, 2021 to earn a perpetual (lifetime) discount!!! See if you qualify today!
20% perpetual (lifetime) discount for new QuickBooks Online Essentials & Plus subscriptions
15% perpetual (lifetime) discount for new QuickBooks Online Advanced subscriptions
Talk with an expert