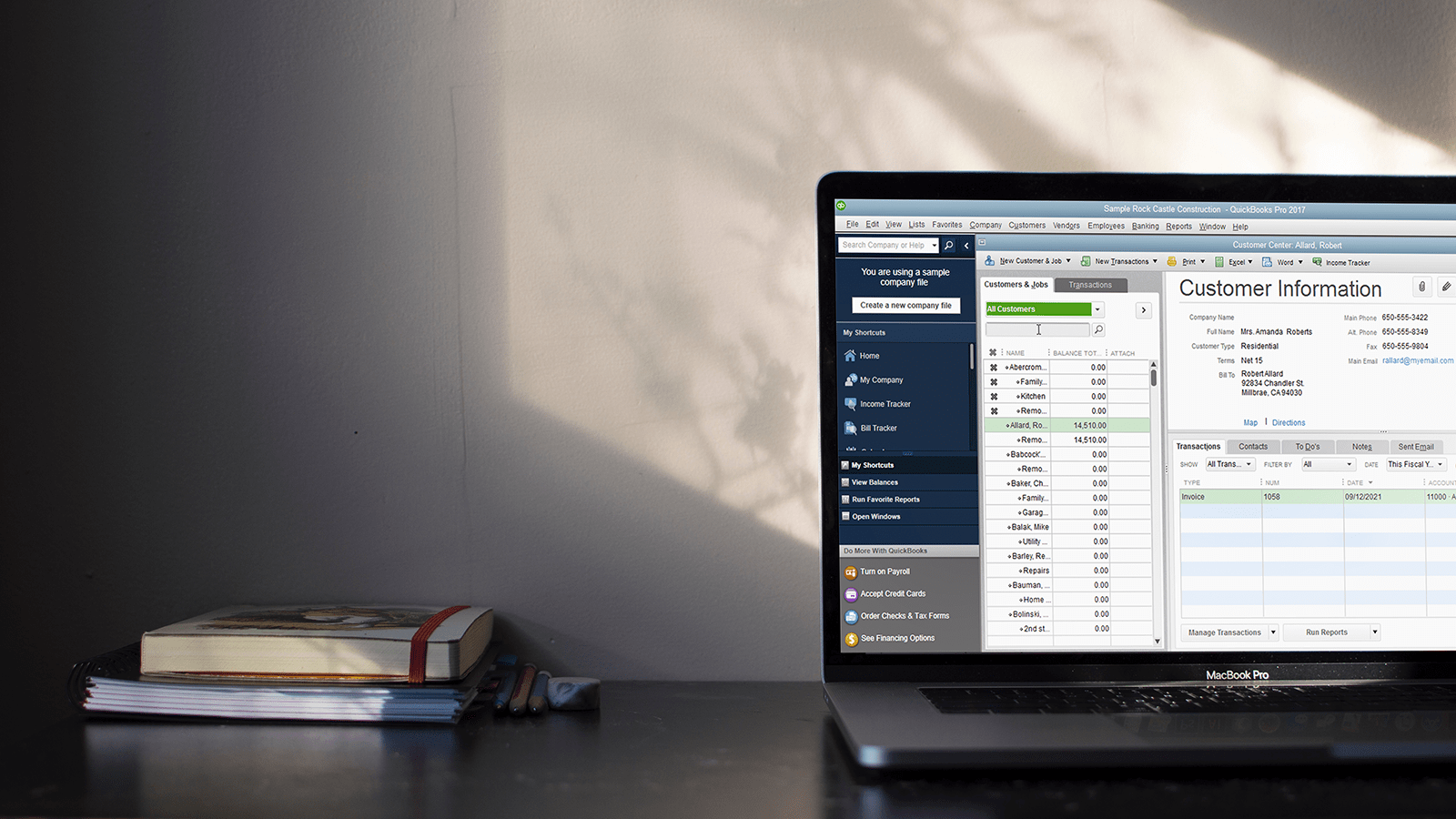 Top 10 New Features In QuickBooks Desktop 2021
QuickBooks 2021 is all about automation to save time and boost productivity, it will be full of new automation features such as – improvements to bank feeds, creating categorized receipt expense entries using the QuickBooks Desktop Mobile App, automatically sending statements, and more. This article is a compilation of just a few of the awesome new features we wanted to share with you. If you would like a more in-depth demonstration of these features, or if you are more of a visual learner, you can check out our recent webinar recording "What's new in QuickBooks 2021"
1. Streamlined Bank Feeds
[Feature available in all QuickBooks Desktop 2021 versions]
If you spend a lot of time entering your banking transactions every month, this new feature will save you a lot of time. You will be glad to hear that you can now automatically categorize bank transactions with more detail by using enhanced rules, batch editing, and improved matching.
Benefits
Import bank feeds faster by automatically categorizing or batch-editing your bank
transactions by payees, accounts, and classes.
Improve data integrity with better matching and less manual entry.
Gain flexibility and efficiency with enhanced rules that let you quickly search for and
define the categorization criteria.
Quickly review or resolve transaction discrepancies.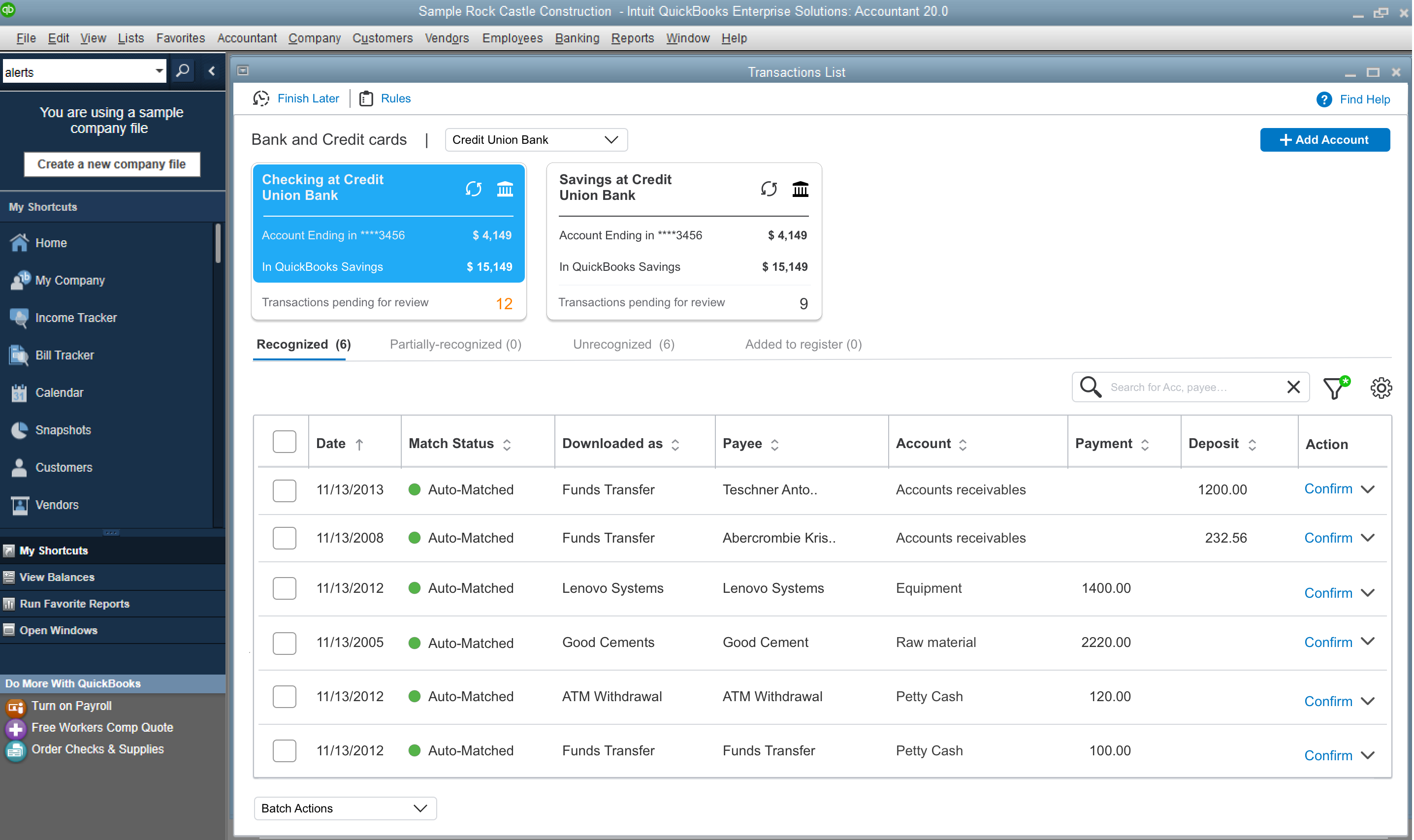 2. Automated Receipt Management In QuickBooks Desktop
[Feature available in the 2021 Pro & Premier Plus, & Enterprise versions only]
Business owners or managers who spend a lot of time entering expense receipts manually can now Automatically create and categorize receipt expense transactions in QuickBooks by using the QuickBooks Desktop Mobile App to capture receipt data. Just photograph, import, and review.
Benefits
No more lost receipts – Employees/users can immediately take an image through a mobile app.
No more stuffing shoe boxes with receipts – Quickbooks store the digital copies of the
receipts in the user's computer.
No more manual data entry – Import bank feeds faster by automatically categorizing or batch-editing your bank transactions by payees, accounts, and classes.
Save time by automatically creating categorized receipt expense entries using the
QuickBooks Desktop Mobile App. Just photograph, import, and review.
Stay organized by attaching digital receipt images to expense transactions for audit
trails.
Accurately categorize and record multiple receipt transactions at once.
Get peace of mind with an easy and efficient review process.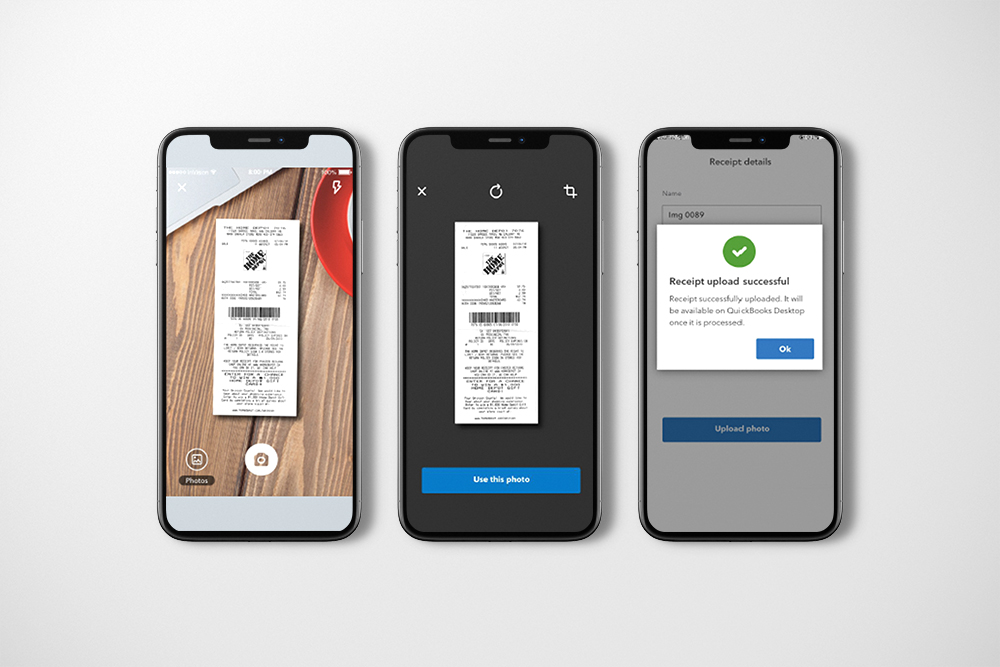 3. Rule-Based Customer Groups
Create rule-based customer groups based on fields like customer type, status, location, and balance, so you can easily manage them and use them across multiple features.
Benefits
Automatically add/remove customers from group based on pre-defined conditions helping you to improve your customer management, insights, and communication.
Stay organized by creating customer groups that you can contact or manage
separately.
Get better insight into customer type, status, location, and balances.

4. Automated Statements/Payment Reminders
Business owners who remind their customers of their overdue balances can now automate frequently sent statement emails, tailored to different customer needs. Send statements with payment links that encourage customers to immediately settle their balances via an online payment portal.
Benefits
Save time by automating recurring statements to different customer groups based on
their needs or tendencies.
Get paid faster by regularly reminding customers what they owe.
Stay on top of outgoing statements by reviewing them before they go out.
Get paid faster by automatically reminding customers when payments are due.
Save time by reducing the need to follow up with late-paying customers.
Customize reminders for specific customers so you can keep healthy business relationships and be confident that you can get paid on time.

5. Advanced Inventory Improvements in QuickBooks Enterprise
[Features available in the 2021 Enterprise Platinum version only]
This one is kind of cheating because I decided to include multiple features that are coming out in QuickBooks 2021 Enterprise Platinum. Continuing to build upon the new inventory features released in 2018, 2019, and 2020, Intuit's 2021 release is making it that much easier for business owners to manage their warehouse inventory in QuickBooks Desktop. Features like improved data level permissions, barcode label prices, improved landed cost calculations, and alternate vendor reports are just a few honorable mentions that will help streamline your inventory management.

Benefits
Improve security and confidentiality by limiting user access to only the specific data, transactions, and reports they are responsible for.
Increase productivity by improving how you delegate user permissions.
Save time by avoiding workarounds to grant granular permissions.
Reports like Inventory Stock Status by Item and Inventory valuation summary.
Customize user access to view, edit or delete only the specific customers, vendors, and data they are responsible for.
Provide greater pricing visibility to customers and employees by including sales prices
on barcodes.
Improve the shopping experience for your customers by giving them important pricing information on each inventory item.
Gain flexibility by setting up landed cost accounts as "COGS" or "Other current assets".
Accurately calculate landed cost for old item bills from closed accounting periods.
Get better control over sensitive information by printing bills with or without landed cost.
Magnify visibility into alternate vendors by listing them in key inventory reports.
Simplify reordering from alternate vendors by easily assessing them in frequently used reports.
Require serial or lot number (coming soon)

6. Payroll Liability Reminders
Small Business Owners can set up calendar notices to ensure they are reminded of upcoming payroll tax and liability payments
Benefits
I can get reminders outside QuickBooks Desktop on my phone/laptop about the liability payments deadline
Hold on to my money a little longer and pay the liabilities on time instead of earlier
Tack the different deadlines to pay liabilities and get reminders in a timely way
7. Customized Payment Receipts in QuickBooks Desktop
Business owners will be able to have a consistent, professional look across all of their customer's communications with customization of payment receipts
Benefits
Send detailed, customizable, and professional-looking payments receipts with all the relevant information fields
Use customization which is similar to existing form customization capabilities without a lot of relearning
Set a default template for payment receipt and override it in the customer payments screen as per the need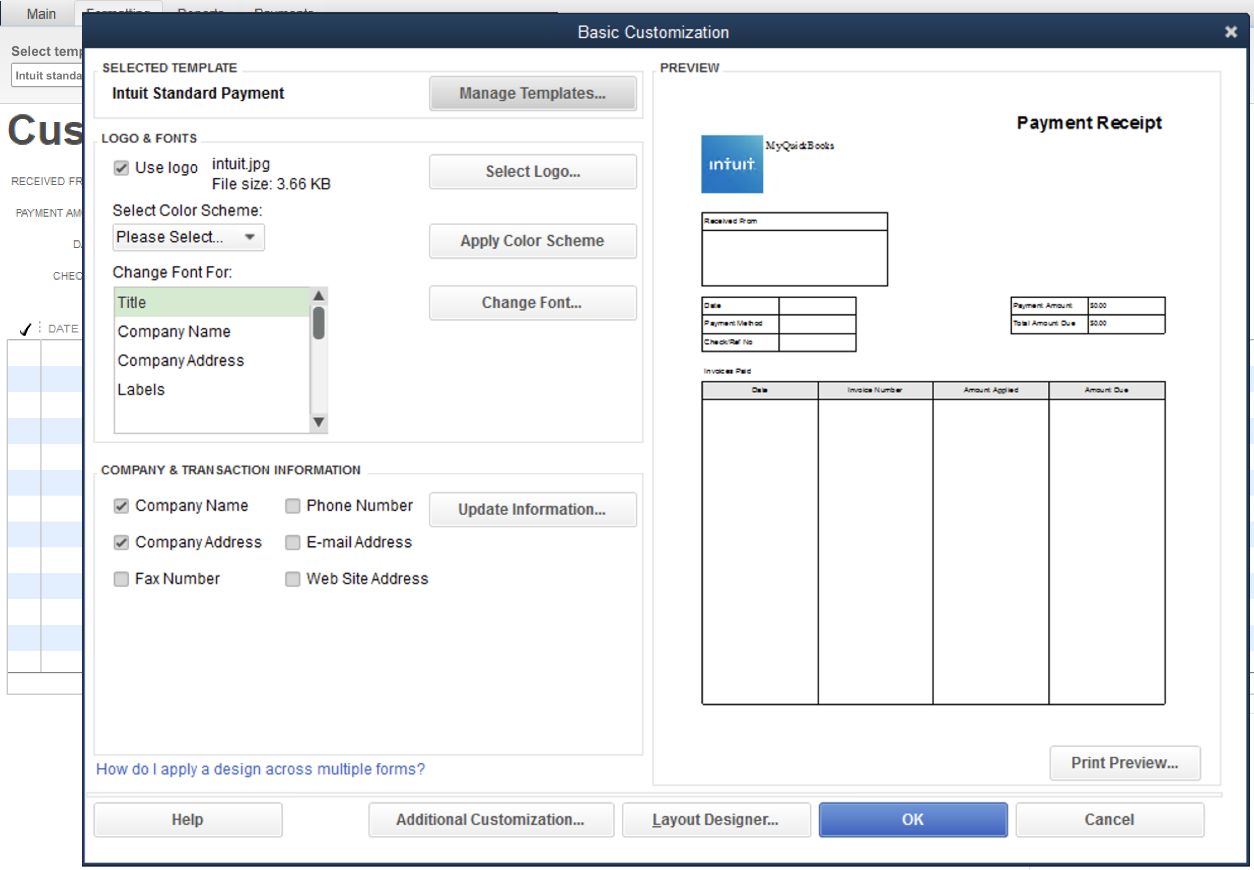 8. Setup & Reuse Email Templates
Create and reuse different templates for email communications with customers.
Benefits
Conveniently save, store, and recall email templates for reuse.
Improve confidence and accuracy in your customer emails by automatically previewing PDF attachments before sending them.
9. Automatic Merchant Services Payments Reconciliation
This improved matching workflow for QuickBooks Payments helps QuickBooks Desktop merchants match all payments to their accounting automatically, every time with complete confidence and no work.
Benefits
The majority of the payments transactions will be automatically reconciled
Efficient reconciliation in a single click. Multiple tabs are consolidated for a clear workflow with tooltips and improved in-product help
Clear call to action with a focus on the category of transactions that need my attention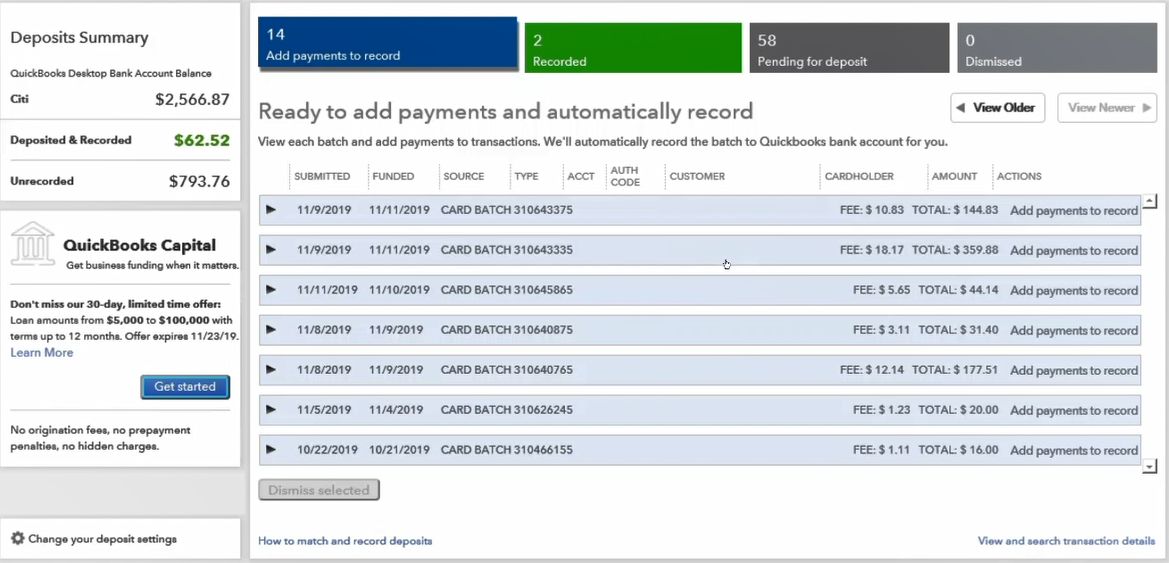 10. QuickBooks ToolHub

Tool Hub is the go-to place for assistance with common QuickBooks issues.
Benefits
Fix most common QuickBooks errors using ToolHub
Find all common tools in one place
Fx the issues with just one click and it saves me time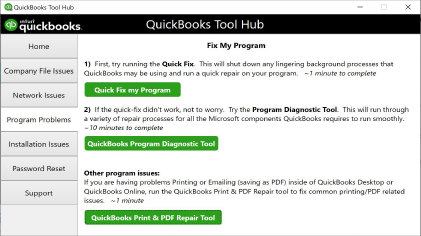 ---
Conclusion
These were just a few of the new features coming out in the new version of QuickBooks desktop. If you have any questions, feel free to contact us any time, or save a seat for our upcoming webinar on September 22nd, 2020 at 12:00 Noon Eastern Time.
Additional QuickBooks 2021 Resources