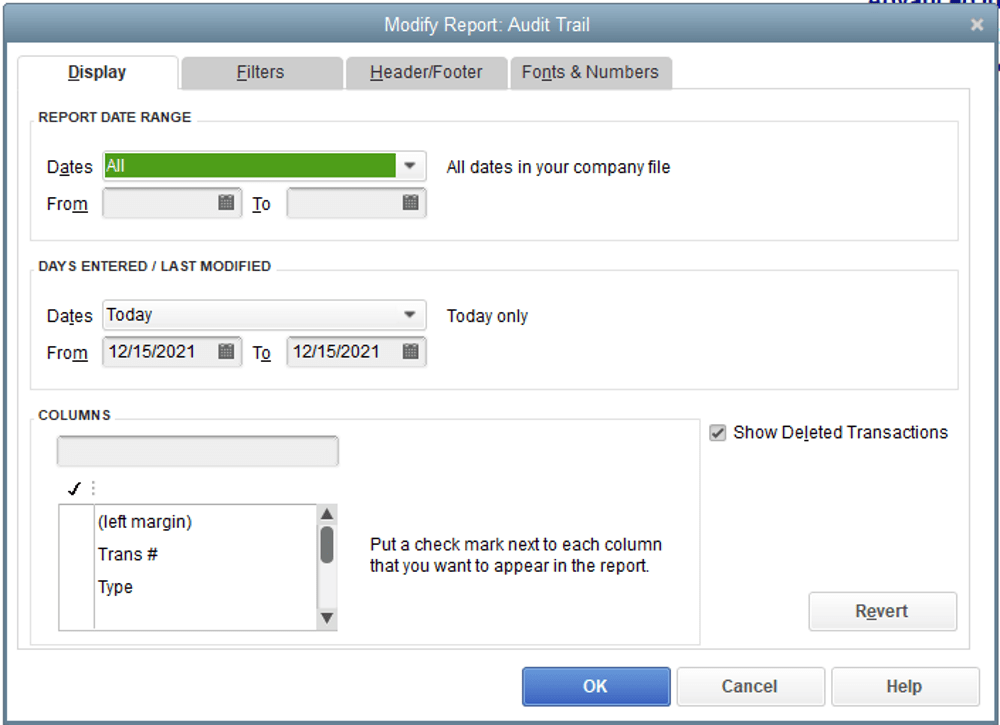 It's happened to everyone at one time or another. You lose a transaction you're sure was there not even five minutes ago, but you just can't seem to locate it. In the event this has ever occurred to you, QuickBooks has a great feature: The Audit Trail report.
To access the Audit Trail report, highlight Reports>Accountant and Taxes>Audit Trail. Upon launching the report, it defaults to today's date. We are given several columns, including but not limited to: Num, Entered/Last Modified, Last Modified by, Date, Name, and Account. These columns CAN be modified and moved around as you desire, as not everything that may appear is relevant to you and your business.
To customize the report to your liking, choose "Customize Report" in the upper left-hand corner of the report. Here we will be given the "Modify Report: Audit Trail" window. Within this window we have 4 tabs: Display, Filters, Header/Footer, and Fonts & Numbers. In the following sections we will discuss the various options under each tab heading.
Display:
Under display we have several options. The report date range, which dictates the date ON the transaction, for example, the date on an invoice. Next, you'll see the "days entered / last modified" filter, this particular filter confuses a lot of new users, the idea behind this date range is WHEN the transaction was modified, or entered, not the date found on the transaction. Third, you'll see the columns options, here we can choose what columns are visible on the report, and to the right of that we can choose to display transactions which have been deleted.
Filters:
As the name suggests, you can use filters to hone your search for transactions. There are a multitude of filters that can be selected, such as name, amount, account, customer:job, vendor, etc. To apply a filter, on the left-hand scrollbar you would select your desired option, then in the middle input the required information (in the screenshot shown, any body of text can be input, many filters have dropdowns). Once the options are selected, the filter will be applied and show in the right-hand side of the Filters Tab. To remove a filter, highlight it by left clicking on it once then choosing "Remove Selected Filter".
Header/Footer:
This tab is to edit and modify what shows up on the header and footer of the report in question. It's all very self-explanatory so we won't go into to much detail on this tab, if you find that you have questions, feel free to contact us or leave a comment below and we'd be more than happy to assist.
Fonts & Numbers:
Another straight-forward set of selections. This tab is designed to modify the appearance of the report. By default, the report will take on the default report settings found under Edit>Preferences>Reports & Graphs>Company Preferences> Format, but each report can be modified individually from this tab.
With the explanation of the different report customizations available, let's look at how to read the Audit Trail Report:
In the attached screenshot, you can see I've modified the columns to hide some and to show the transaction "Type" and "Transaction #" (shortened on the column name to Trans #). As you can see our Entered/Last Modified and Date do not match. As I mentioned earlier in this post, the Date is the actual Date ON the transaction, and the entered/last modified range looks to see when/if the item was created or touched last. This is an important distinction to realize, many new users get stuck here. Lastly, we can see who the transaction was last modified by. This information can be incredibly useful to see just WHO made that change, or deleted that transaction. This is a great chance for me to mention this: Security is important and so is ensuring everyone has their own user within QuickBooks, this ensures the integrity of the data, and ability to check the audit trail for changes. One last thing to note:
Every line on this report is the SAME transaction, just at different states in time, you can see what was modified/edited as indicated by the bold line. When reading the Audit Trail make sure you're looking at the right transaction. We understand it can get confusing, especially with audit trail data becoming overwhelming with time! In that case, feel free to get in touch by clicking link below;  our Certified ProAdvisors stand by to help make sense of this report, and other reports your business uses in QuickBooks Desktop.  
ANNOUNCEMENT: Looking for more QuickBooks guidance? We're hosting a Two-Day Seminar/Webinar on QuickBooks Desktop – on the 3rd and 4th of October 2019. It will take place at our Learning Center, and online! Space IS Limited; get your spot while spots remain.