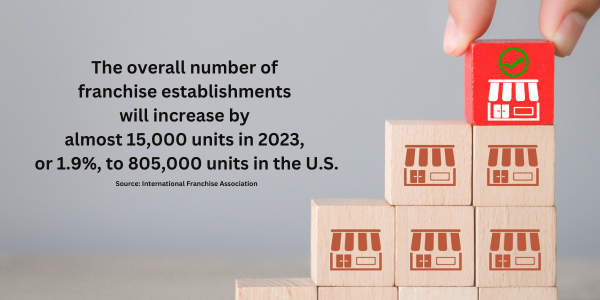 The International Franchise Association (IFA) recently released its 2023 Franchising Economic Outlook report, predicting positive growth for the franchise industry. Despite economic challenges and uncertainty, the report found that franchise unit and job growth continues to outpace pre-pandemic levels. Specifically, the report predicts that franchises will add over a quarter-million jobs and 15,000 new independent businesses this year.
The CEO and President of the IFA, Matt Haller, expressed optimism about the industry's resilience and potential for growth in the face of economic headwinds. "Even with today's economic headwinds, franchised businesses continue to grow, providing more good-paying jobs for their employees and serving their local communities," he said. "After an historic year of growth during the post-pandemic recovery, the size of the franchise economy in 2023 will exceed pre-pandemic levels – demonstrating the power of the business model for prospective business owners when franchisors and franchisees work together." Let's take a closer look at the key highlights of the report:
Franchise Establishment and Job Growth
The report predicts that the overall number of franchise establishments will increase by almost 15,000 units in 2023, or 1.9%, to 805,000 units in the U.S. This growth is expected to be driven by the rise of quick-service restaurants and service-based industries.
Franchising will add approximately 254,000 jobs in 2023, with total franchise employment forecasted to reach 8.7 million. This represents a growth rate of 3.0%, outpacing pre-pandemic levels.
State and Regional Growth
The report also examined franchise business growth at the state and regional levels, analyzing different rates of franchise business growth due to disparities in business climates, migration trends, the labor market, and major industry investments.
The report predicts that states in the Southeast and Southwest will experience the fastest franchise business growth in 2023. The top 10 states for franchise growth in 2023 are projected to be Texas, Illinois, Florida, Georgia, Tennessee, North Carolina, South Carolina, Arizona, Colorado, and Indiana.
The Southeast region, which has the largest franchise concentration in the U.S., will have an estimated 234,079 total establishments by 2023, employing 2.5 million workers and contributing $250 billion in output to the U.S. economy.
Total Economic Output
The total output of franchised businesses is expected to increase by 4.2% to $860.1 billion in 2023, up from $825.4 billion in 2022. This growth is attributed to the increased number of franchise establishments and the growth of quick-service restaurants and service-based industries.
Franchises' GDP share of the overall economy will remain stable at 3%, with franchises' GDP growing at a slightly slower pace of 4.2% to $521.3 billion compared to 2022.
The Importance of Franchising
The IFA report highlights the importance of franchising to the U.S. economy. Franchises have been shown to create jobs, support local communities, and contribute to economic growth. Despite economic challenges, the franchise industry continues to demonstrate resilience and the ability to adapt to changing circumstances.
According to the report, franchising has become an increasingly popular business model, with more entrepreneurs opting to become franchisees rather than starting their own independent businesses. This trend is expected to continue in the future.
Meet with a QuickBooks product expert today! 
Schedule a complimentary QuickBooks product consultation to find our which version of QuickBooks is best suited for your needs. By purchasing your software licenses through an Elite QuickBooks Solution Provider like us, you are guaranteed to get the best prices possible on all QuickBooks products.
Meet Today
What QuickBooks Desktop Versions are Being Discontinued?
QuickBooks Desktop Pro 2020
QuickBooks Desktop Premier 2020: (General Business, Contractor, Manufacturing & Wholesale, Nonprofit, Professional Services, and Retail)
QuickBooks Enterprise Solutions 2020
QuickBooks Premier Accountant Edition 2020
QuickBooks Enterprise Accountant 2020
QuickBooks Desktop for Mac 2020
Visit our online store for discounted pricing on the latest and greatest versions of QuickBooks Desktop/Online
What Payroll Services are Affected by the QuickBooks Discontinuation?
After May 31, 2023, QuickBooks Desktop 2020 users won't be able to automatically calculate correct payroll taxes or provide payroll tax forms. Additionally, your paychecks may be inaccurate and the subscriptions listed below will be deactivated unless you upgrade or switch to QuickBooks Online.
Workers' Comp Payment Service
QuickBooks Workforce (formerly ViewMyPaycheck): You and your employees won't have access to QuickBooks Workforce.
Learn more about the Quickbooks Desktop payroll discontinuation.
Will QuickBooks Payments Credit Card Processing be Affected?
Yes, QuickBooks Payments (formerly Intuit Merchant Services) will be affected by the 2020 disco. QuickBooks Desktop 2020 users will get a message stating the service is no longer available. won't be able to process credit card and check transactions through QuickBooks Desktop 2020 after May 31, 2023. The following payment-related services will also be affected:
Recurring Payments: QuickBooks Desktop 2020 won't download recurring payments. These transactions will continue to process. You can manage your Recurring Payments at MerchantCenter.intuit.com or using a 3rd party Recurring Payments app.
Merchant Service Deposit (reconciliation): After May 31, 2023, QuickBooks Desktop 2020 won't download credit card and check info in the product.
eInvoice: After May 31, 2023, you won't be able to process elnvoice (email of invoice with pay link enabled) through QuickBooks Desktop 2020. You are required to have a supported version of QuickBooks and an active QuickBooks Payments subscription to run this service.
What Other Apps or Services will be Affected by The Discontinuation?
Accountant Copy Transfer Service
Contributed Reports
Multi-currency/Exchange Rate
Online Banking: You won't be able to download transactions, send online payments, or send online transfers. The exact error message depends on your download method. For example, you may receive, "QuickBooks Desktop is unable to verify the Financial Institution Information for this Download."
QuickBooks Time: The use of QuickBooks Time within QuickBooks 2020 won't be available. To sync your QuickBooks Time Data with QuickBooks, move to QuickBooks Online or use a web connector.
Uploading transactions will also be discontinued.
Why Should I Upgrade My QuickBooks Desktop Before Discontinuation?
If you continue using QuickBooks 2020 past the End of Life date, May 31st, 2023, and you experience any issues related to performance, reliability, or just need some general usage guidance, Intuit won't be able to extend any support.
If support is given, however, it is almost certain that the extent will be no further than an emailed support document containing steps to self-troubleshoot or answer inquiries. Basically, support will be very limited, if any is given.
Why Does Intuit Discontinue QuickBooks Desktop?
The evolution of technological tools for business are essential to continued innovation, growth, and efficiency. Intuit continues to pursue improved software and tools for its customers based on this premise. Here is what Intuit says about the discontinuation cycle: "We are committed to developing easy, straightforward financial tools that help you today and grow with you tomorrow. But it's a balancing act – making QuickBooks Desktop better and easier to use while still supporting older versions."
Do I Have to Upgrade to the Latest Version of QuickBooks?
The answer is no, although it is recommended. In order to ensure that your third-party apps and data feeds, such as bank feeds, are working you will need to be in the latest desktop product or migrate to QuickBooks Online. Intuit is focusing its efforts on developing and improving QuickBooks Online over its desktop products because they believe cloud accounting is the future of accounting. Our QuickBooks Product Experts are here to help you decide which version of QuickBooks would be best for your needs, regardless of whether you are looking to upgrade to the latest version of QuickBooks Desktop or switch to QuickBooks Online. 
How Do I Know What QuickBooks Desktop Version I'm Currently Using?
First, open your QuickBooks software to the main page. Next, press the F2 key or simultaneously press the "Ctrl" and "1" keys. This will open up your Product Information window. Search for your product name, product number, and license number in the Product Information window. In the Usage Information section, you will see the "Date First Used". Search for your release at the end of the product name. Your version year will be listed right in front of the word "Release" on the "Product" line.

When does service discontinuation happen?
Dear Customer,
We're letting you know that your 2020 QuickBooks Desktop software will be discontinued after May 31, 2023 along with product-related services and support.
After May 31, 2023, you'll no longer have access to:
Live Support** and Included Services

QuickBooks Care Protection Plan
Intuit Data Protect

Payroll Services
View My Paycheck
Credit Card Processing
Check Processing
Accountant Copy File Transfer Service
Multicurrency/Exchange Rate
Contributed Reports
Online Banking
QuickBooks Time (formerly known as TSheets)