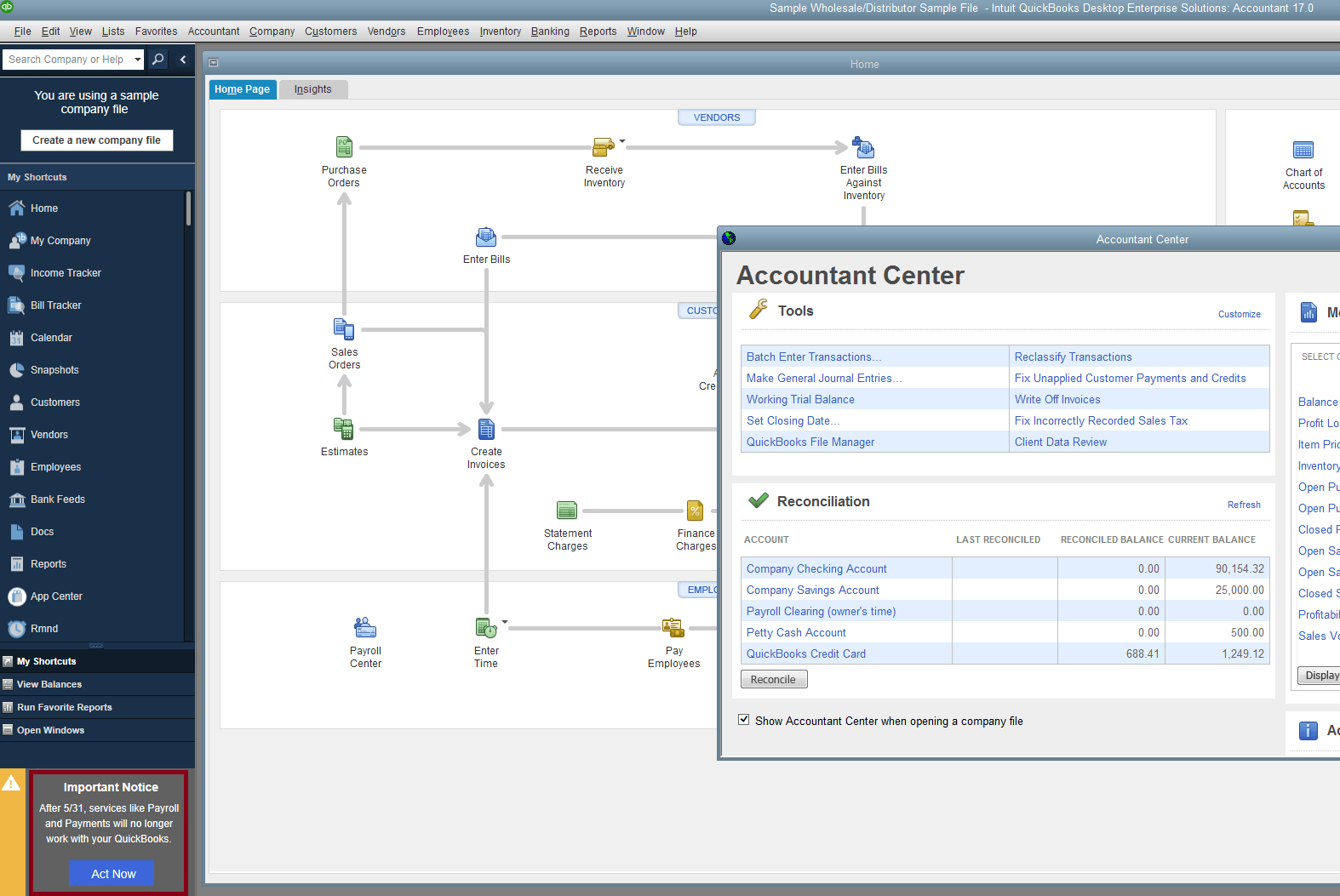 Support for QuickBooks Desktop 2017 in 2020: What You Should Know
It's getting near the End of Life for QuickBooks 2017. For many longtime users, it's that time of the year. For those of you who have just started using QuickBooks Desktop, you may be wondering what that means. Put simply: anyone still using 2017 will lose access to important add-ons, at the end of May 2020. Also, any live assistance for any inquiry or troubleshooting measure revolving around Desktop 2017 you currently utilize will not be available come May 31. What does this entail? Keep reading to learn exactly what services and apps are affected; and how discontinuation affects your support experience.
What is Affected by Discontinuation?
Software products, add-ons, and the services they perform. Here's a list of the QuickBooks products and services no longer receiving further support or functionality.
Affected Editions of QuickBooks

QuickBooks Desktop Enterprise 2017
QuickBooks Desktop Pro 2017
QuickBooks Desktop Premier 2017
QuickBooks Desktop Accountant 2017
That's right: unlike last year's notice, QuickBooks Desktop Mac didn't have a version 2017 – having made a return with QuickBooks Desktop for Mac 2020. We look forward to seeing what the next version will bring to Mac users of QuickBooks.
Affected QuickBooks Add-ons
QuickBooks Payroll: Assisted, Basic/Enhanced, Full Service
QuickBooks Payments
Online Banking/Bank Feeds
ACH Processing
QuickBooks Accountant's Copy File Transfer
Multi-currency (exchange rates)
Affected Third-Party Add-Ons
While there is not a comprehensive list of third-party apps available, we can list several that may be relevant to your business. What can be noted, though, is Intuit guidelines have third-party developers only developing and testing for supported versions of QuickBooks; after End of Life kicks in, they'll be developing and testing for versions 2018, 2019, 2020 and the upcoming version – likely being released this fall. For those unfamiliar, popular apps include:
TSheets by QuickBooks (QuickBooks Time)
Expensify
Avalara Avatax
Recur360
Bill.com
Transaction Pro Importer/Exporter
Any other third-party apps!
If you are in the hunt for additional functionality to QuickBooks, but not sure where to start. Get in touch with our products specialists; they'll do all they can to pair your business with the right apps to make it run more efficiently – thanks to degrees of automation available.
If I Like the Version I'm Using, Why Should I Upgrade QuickBooks Desktop?
If you continue using QuickBooks 2017 past the End of Life date, and run into some behavioral occurrences related to performance, reliability, or usage guidance, Intuit won't be able to extend the same level of support as versions they'll continue supporting – after May 2020.
Examples include:
How to delete elements in a given list: chart of accounts, item list, customer list, vendor list etc.
2017 exhibiting unexpected behavior, after a series of Windows updates done on a workstation
Reports not showing figures as expected, or Balance Sheet is Out of Balance.
It can't be guaranteed that users of 2017 will receive assistance further than a document emailed to them – containing steps to resolve or answer inquiries.
Why Are Products Discontinued Regularly?
The evolution of tech tools for business are essential to continued innovation, growth, and efficiency. Intuit continues to pursue better software and tools for its customers based on this premise. Here is what Intuit says about the discontinuation cycle: "We are committed to developing easy, straightforward financial tools that help you today and grow with you tomorrow. But it's a balancing act – making QuickBooks Desktop better and easier to use while still supporting older versions."
Regularly scheduled Windows updates are quickly changing the landscape in which everyday programs need to keep pace – with respect to compatibility, thereby affecting reliability and performance. When cyber security is thrown into the mix also, new measures developed to tackle new threats require dedicated attention to ensure security – along with usability.
Do I Have to Upgrade to the Very Latest Version of QuickBooks?
Believe it or not, you don't – though it's recommended. We get that not everyone is into the latest and greatest technological advances. But naturally, newer versions of any software provide increased capabilities for higher functionality, efficiency, and growth.
QuickBooks Desktop 2020, more or less, grandfathers many of the features found in 2017, 2018, and 2019 with the features packed only in 2020:
Multiple Display Support
Mobile Barcode Scanning
Print, Pack & Ship
Order Fulfillment
Check to Bill Pay
One-Click Upgrade
If you still are on the fence, stay tuned for our next installment: a deep dive on each of the features found in 2018, 2019, 2020. But if you can't wait for that reach out to one of our product specialists to walk you through each version – via a complimentary consultation to best match the solutions with how you do business.