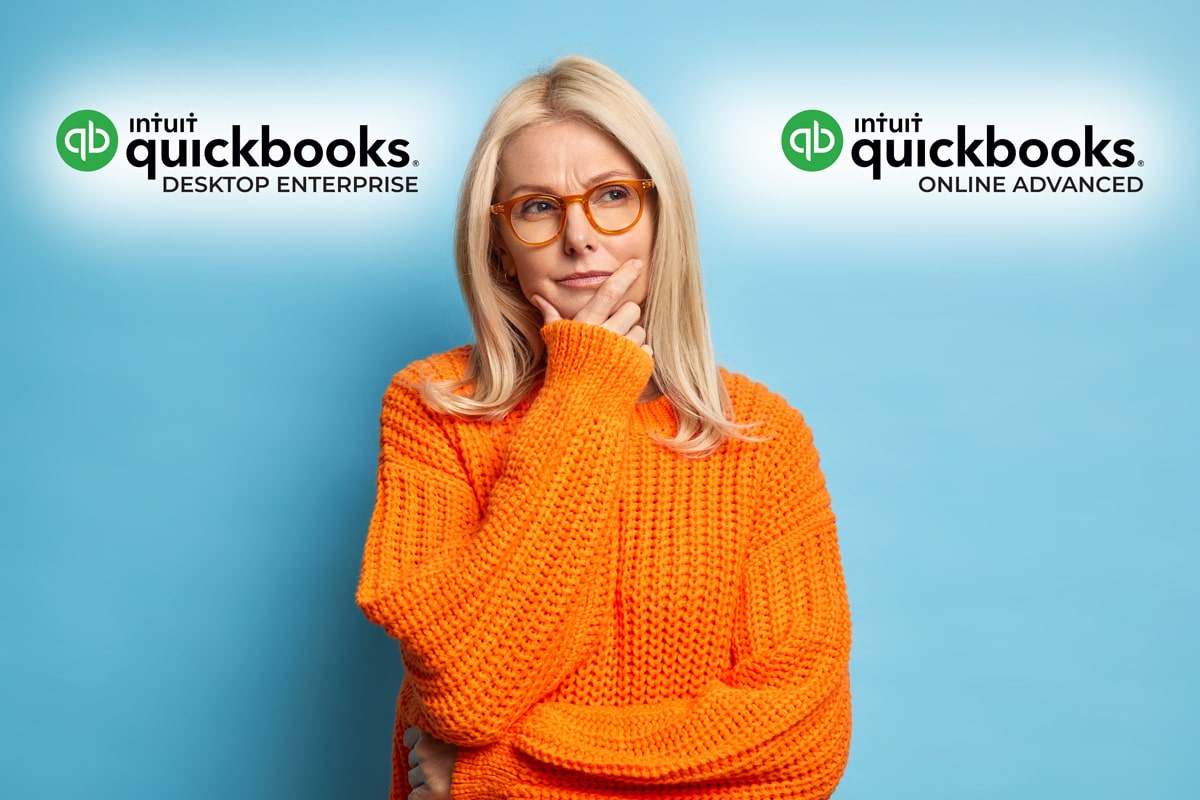 Comparing QuickBooks Desktop Enterprise with Online Advanced
If you're wondering, "Is QuickBooks Desktop Enterprise or QuickBooks Online Advanced best for my business?" then this is the article for you!
Needs change over time as businesses grow and scale. Therefore, solutions must adapt and/or change to continue to support expanding essential business functions. One of the hardest decisions you will need to continually reassess and make is which accounting system is best for your operation. There are many considerations involved, and one of the most important considerations is if you are ready to upgrade or switch. Another important consideration is which accounting solution configuration will be the best fit for your industry.
We recommend QuickBooks because we:
Know its vast array of functional capabilities, and
Understand its high flexibility in accommodating wide ranges of varying solution configurations.
This allows us to design a custom-tailored solution configuration to meet and exceed your business needs. But, which solution will ultimately be best for your business; QuickBooks Desktop Enterprise or QuickBooks Online Advanced? This brings us to why we wrote this article. Our intent behind the article was to answer the two-part "Big Kahuna" of client questions we receive.
Article Contents
This is a great article, jam-packed with terrific information, but there's a lot, we know. To make your life easier so you do not have to sift through information that is irrelevant to you, we made this table of contents to skip to the good stuff! clicking on any of the below links will take you straight to that section.
Do I need to upgrade my QuickBooks software?
Some of the most common questions we receive at Out of the Box Technology are "How do I know when I'm ready to upgrade my QuickBooks?" and "how do I know which to choose, based on what's best for my business and industry?"
There's much to consider like any decision to convert over to a QuickBooks solution or upgrade your current subscription. Many intelligent business minds have wrestled with this decision, and most have resulted in coming to us for guidance. We are the experts who specialize in Anything + Everything QuickBooks! As one of the very few Elite QuickBooks Solution Providers in Intuit's QSP Program, we live up to our distinction of being one of the best QuickBooks Solution Providers out there. Our intention is not to toot our own horns, (well, maybe a little…) but to assure you that we know exactly when it's time for an upgrade or switch.
Upgrade Identifier: Are You Ready For Enterprise or Online Advanced?
When is the right time to upgrade? Our experts have simplified this for you so you can easily identify when the appropriate time is. Below we have the top 10 scenarios that indicate it's time to move on up. So, should you ever experience any of the following scenarios, it is definitely time for you to consider an upgrade. Have you encountered any of the following?
Having to keep on implementing workarounds as solutions for challenges that can be easily solved using features included in Enterprise or Online Advanced.
Expand reporting capabilities to produce a greater quantity of higher quality actionable insights, and reign in tighter financial control.
A robust, customizable inventory management system capable of handling your complex inventory needs is required.
Tracking and reporting are MUSTs in order to run your business effectively.
You need industry-specific features and workflows for your industry-specific processes.
Control over restricted user access is required to safeguard certain information and/or areas of your accounting software
More robust product pricing capabilities are required for your many different products.
Based on your business needs and budget, there is an opportunity for cost savings by adjusting your solution package.
Room to grow is desired because you are close to reaching your various list limits.
When your file size is too large and your accounting software begins lagging and running slowly.
Industry-Specific Accounting Solutions
Occasionally, we have clients that ask us about Industry-specific accounting software. There is some great industry-specific software available, nevertheless, it tends to be inadequate in different areas for different businesses. This is because industry-specific accounting software is designed as a one-size-fits-all solution for a specific industry. And we all know that businesses can vary greatly in their accounting and operational processes, even within industries! That's not to say that an industry-specific solution isn't necessarily right for you. Nevertheless, we will say that our clients who pondered over this and chose QuickBooks are extremely satisfied with their decisions.
Looping back to the industry-specific one-size-fits-all solution, it is important to note that software can be tweaked some. Customization options are present to address the issue of the one-size-fits-all solution. Some businesses find the customization options present in industry-specific software sufficient for their current needs. However, the challenges begin to surface as the business continues to evolve and scale. The boundaries of the one-size-fits-all solution are tested, and the software's rigidity becomes apparent. Many of our clients who initially chose an industry-specific one-size-fits-all solution have come back to us. After experiencing the limitations, they find themselves requiring a more versatile solution. Importantly, the consequences of initially choosing the wrong software come at a hefty price.
The switching costs include:
And keep in mind these costs are double (sometimes more); 1st expense for the conversion to the industry-specific product, and 2nd expense for the conversion from the industry-specific product to the right-fit solution.
The cost of the software itself:

plus any upgrades and/or additional products/services

Service charges from IT/providers for:

The conversion of accounting data from the previous solution to the industry-specific solution

Shared costs of resources deployed and utilized for:

Data compilation, formatting, backups, and conversion/migration preparation
Employee adoption and training

Employee salary/wage for time spent on:
Without digging deep into details, you can see that the costs of a wrong software decision can be enormous!
Why Upgrade to Enterprise or Online Advanced?
Without a shred of doubt, QuickBooks Desktop Enterprise and QuickBooks Online Advanced are by far the most powerful QuickBooks solutions. With QuickBooks Desktop Enterprise leading the way in capabilities and reporting power, QuickBooks Online Advanced is a close second. None of the lower-tiered products in either desktop or online platforms can do what these two products can. Therefore, we recommend these products to growing businesses that can reap the most Return on Investment (ROI) from them. The greatest source of ROI from these solutions tends to come in the form of time savings and costly-mistake avoidance. Enterprise and Online Advanced deliver indisputable results through streamlined workflows and processes, paired with improved security and tighter financial controls.
It's without question that QuickBooks Desktop Enterprise is the most powerful solution currently available, even more so than Online Advanced. However, that's not to say that the decision is as easy as choosing the most powerful product. Making the best decision is about selecting the product that most empowers your business to succeed. With our clients, we see a strong positive correlation between success empowerment and versatile (non-one-size-fits-all) software solutions with industry-focused features.
Because of this strong correlation, and our desire for our clients to succeed, we have broken down our product decision analysis on industry and business type. So buckle up, buttercup! And prepare for an in-depth product analysis between Enterprise and Online Advanced!
Other Considerations
Some businesses in certain industries can thrive on either QuickBooks platform. Since each platform has its own advantages, there are other considerations for you to make if this is the case for your business.
Accessibility & Connectivity
The most important consideration for you, if your business will prosper on either platform, is accessibility and connectivity. Think from where you will need to have access and connectivity to your QuickBooks. Will you only require access from a single location (or multiple locations where remote access is an option)? Or, will you need to access and connect with your QuickBooks on the go, wherever you have an internet connection?
QuickBooks Desktop Enterprise is desktop-based by nature and will require hosting from a cloud hosting service provider in order to be accessed on the cloud. If you only connect with QuickBooks on your main terminal or through your server and remoting into your desktop is an option, then Enterprise will be your best choice. This is because Enterprise is generally regarded as a more robust platform. So, if accessibility and connectivity limitations do not prevent you from getting your job done well, then consider Enterprise.
However, if you require on-the-go access and connectivity then QuickBooks Online may be a better fit for you. QuickBooks Online is cloud-based by nature, and accessible by login on the QuickBooks Online portal. You can connect to your highly secured QuickBooks data from anywhere with an internet connection. So if your style is processing payroll while sunbathing and sipping Mai Tai's on a tropical beach in paradise – you can do it! Since QuickBooks Online only requires an internet connection for you to access it, you do not need to pay extra to cloud host a desktop-based application. If you absolutely require an on-the-go solution, consider QuickBooks Online Advanced.
About Us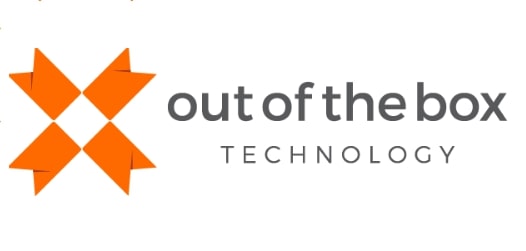 Out of the Box Technology is an Elite QuickBooks Solution Provider (QSP). We provide our clients with QuickBooks products and end-to-end Business services and Data services through our talented team of in-house ProAdvisor Advanced Consultants, possessing over 500 years of combined QuickBooks experience. Armed with our "SauceBox ApproachTM," Out of the Box Technology's Advanced Consultants live up to our motto, "Anything + Everything QuickBooks." Contact us and let us show you the best possible client experience, every single time! And don't forget to check out our Company Blog for Free Resources, valuable How-To's, and TONS of frequently added QuickBooks content!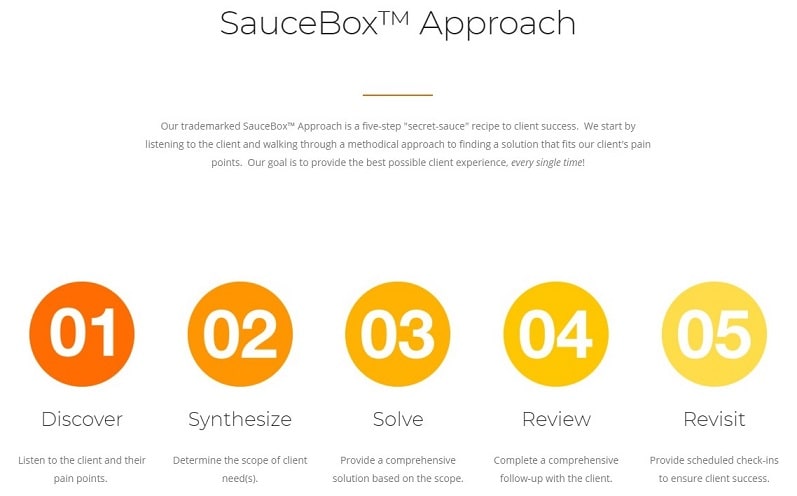 What is Our SauceBox™ Approach?
Our SauceBox ApproachTM is the internal process that we developed specifically to better serve our clients.  This is essentially a five-step secret-sauce recipe to client success.  We start by listening to the client and walking through a methodical approach to finding a solution that fits the client's pain points.  Our goal is to provide the best possible client experience, every single time!