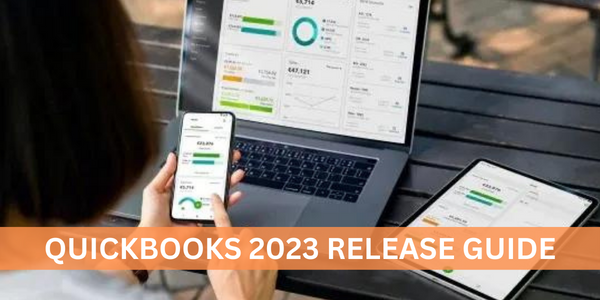 The release of new QuickBooks 2023 includes some new features for companies and accounting pros. Users of QuickBooks Desktop Plus (Pro and Premier) and QuickBooks Enterprise will all be able to take advantage of new features for 2023. These include the new Cash Flow Hub, the upgraded Track Vehicle Mileage function, Reports Optimization, and improved Banking Connectivity are among these features.
Here are 8 significant updates
✔️Cash Flow Hub
Cash Flow Hub allows you to quickly analyze, manage and track your cash flow. You can access your accounts to view your available funds, including bank accounts, credit cards, loans through one main gateway. From here, you can manage your money-in and money-out transactions.
Of note, the Trends section of the Cash Flow Hub displays your historical variations graphically, This will help in your future planning by allowing you to see forthcoming transactions that will impact your cash flow.
✔️Mileage Tracking for Vehicles
While QuickBooks already has a tool for tracking vehicle mileage, with the 2023 release it will allow you track the mileage and it your QuickBooks company file through a brand-new (iOS) app. This feature takes the guesswork our calculating miles and will collect the most recent IRS mileage rate for you.
✔️Better Report Optimization Process
The issue of compilation of large company files has been addressed with the 2023 rollout. The updates will enhance the performance of report compilation for files sizes greater than 300 MB. Users should notice that these reports load more quickly than they did in earlier versions of QuickBooks Desktop even though the reporting interface won't change. Report Optimization is accessible to all 2023 Desktop Plus, Enterprise and Accountant users in the US and Canada.
✔️Improved Banking Connectivity
New for 2023, QuickBooks Desktop offers improved banking access on an updated platform to handle connectivity and security challenges. Because of the increased banking connectivity, online banking will be improved in 3 ways:
The interruption, downtime and stability of banking connections will improve.
QuickBooks Desktop can be set up to automatically download financial data at user-specified times and it will capture the bank or credit card information.
The capability of setting up better banking connectivity from Bank Feeds. Currently, there are four participating banks with 25-30 more coming online in the next few months.
✔️Inventory Item Categories
Before now, there have been just a few options available to QuickBooks Desktop users for defining inventory objects. With the 2023 release, there is now a more effective way to manage your inventory with user-defined inventory item categories. You can also establish a hierarchy for your inventory objects.
✔️Tracking Expiration Dates
If you want sophisticated inventory controls, the new enterprise date tracking feature is what you have been waiting for. As part of the Enterprise Platinum and Diamond package, users will be able manager inventory more effectively using expiration dates.
✔️Intercompany Dealings
In order to accurately records intercompany financial operations, firms with several connected companies previously had to manually create identical transactions in various QuickBooks company files. This has resulted in a large of duplications and mistakes. With the 2023 release, you will have the capability to link separate QuickBooks company files together.
✔️Enhanced Payment Links
Building a feature launched in 2022, this iteration will make it easier to solicit payment from a customer without generating an invoice.  This allows you to accept and collect payments faster and easier. You can also follow up on any existing payment links by reminding receivers of any unpaid Payment Links that are still open.
About Us
Out of the Box Technology is an Elite QuickBooks Solution Provider (QSP). We provide our clients with QuickBooks products and end-to-end Business services and Data services through our talented team of in-house ProAdvisor Advanced Consultants, possessing over 500 years of combined QuickBooks experience. Armed with our "SauceBox ApproachTM," Out of the Box Technology's Advanced Consultants live up to our motto, "Anything + Everything QuickBooks." Contact us and let us show you the best possible client experience, every single time! And don't forget to check out our Company Blog for Free Resources, valuable How-To's, and TONS of frequently added QuickBooks content!