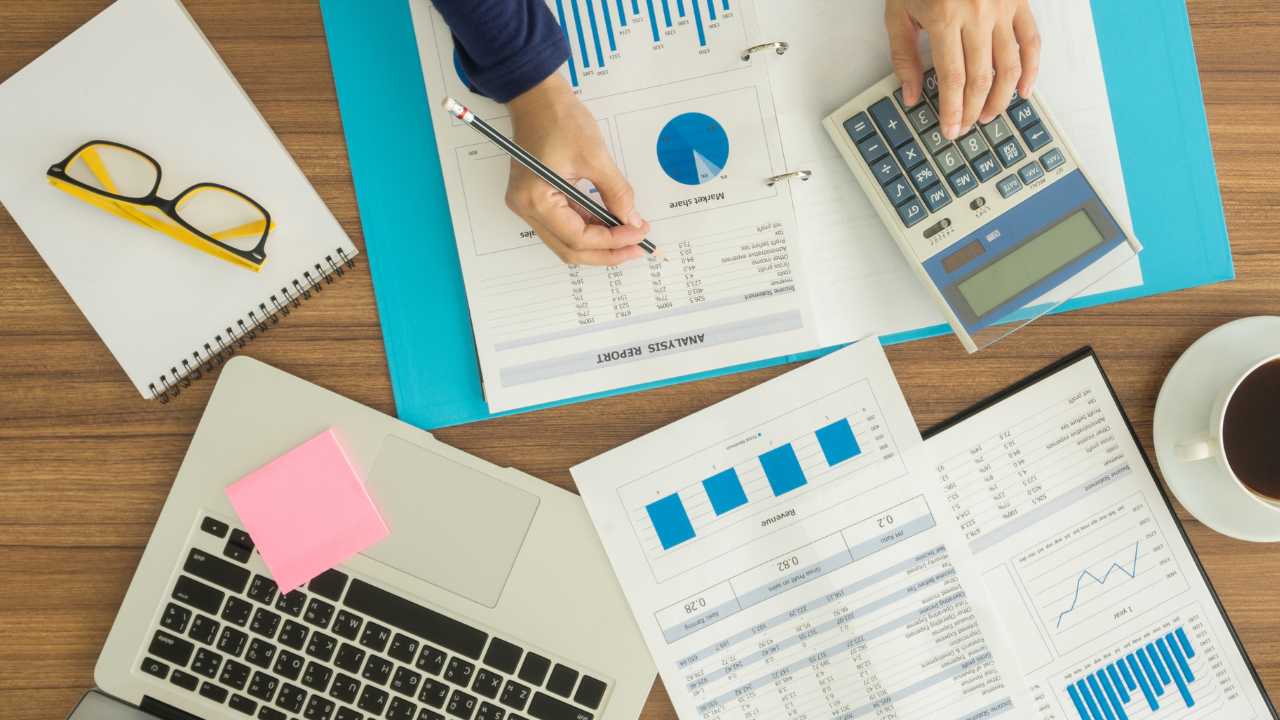 Balancing the intricacies of small business accounting may appear daunting, given the myriad of crucial tasks that demand your attention. The financial facets of even the most modest ventures can be labyrinthine. However, there exist methods to uncomplicate your duties and mechanize a significant portion of your accounting work.
Accounting software designed for ease of use can significantly enhance your workflow—abolishing time-consuming tasks like mental arithmetic, manual data input, and inventory supervision. Thus, regardless of whether you're managing your business's accounting alone or with a specialized accounting team, such software can assist in accomplishing duties like bookkeeping, bank account reconciliation, and the creation of financial reports.
But what criteria should guide your selection of accounting software? Let's delve into the seven key elements to keep in mind when hunting for the accounting software that's the perfect match for your business.
1.
Your budget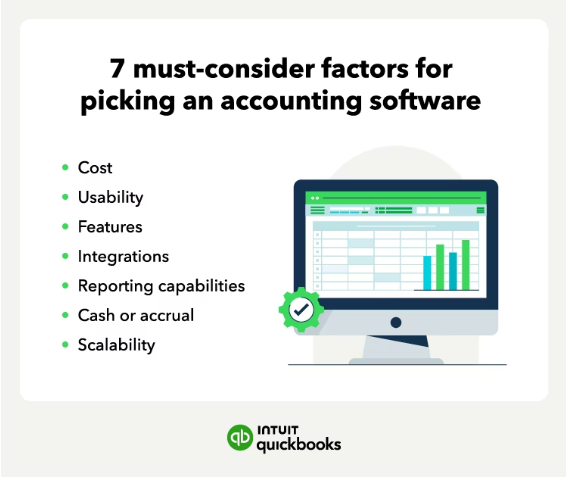 As a small enterprise, adhering to your budget is critical. Yet, acquiring accounting assistance isn't a luxury exclusive to businesses with sizable budgets and seasoned teams. There's accounting software out there providing an economical solution for managing your bookkeeping and accounting duties.
When pondering over fresh expenditures, it's important to ensure the product falls within an affordable monthly cost, safeguarding your financial equilibrium. After all, accumulating credit card debt is far from desirable.
Although accounting software for small enterprises might not be one of your heftier expenses, cumulative services can still add up, necessitating intelligent spending decisions.
Once you've obtained details on the accounting software's pricing—be it a flat rate, tiered pricing structure, or personalized quote—take time to contrast your choices, identifying where you'll achieve the maximum return on your investment.
2.
The learning curve
Implementing new software into your accounting or bookkeeping procedure may entail an adaptation period—investing time and effort to master the software—regardless if it's you alone or a team employing it. While this learning phase is inevitable, it's unquestionable that some applications offer a more intuitive experience than others.
Interpreting your firm's financial data is inherently complex, and the role of accounting software is to simplify this process, not complicate it. Certain applications overcomplicate matters with advanced features and perplexing configurations that are challenging to maneuver.
Optimum accounting software for small businesses underscores a stellar user experience—implying that it's quick to grasp, boasts well-marked and methodically arranged functionalities, and is effortless to navigate.
3. 
Available features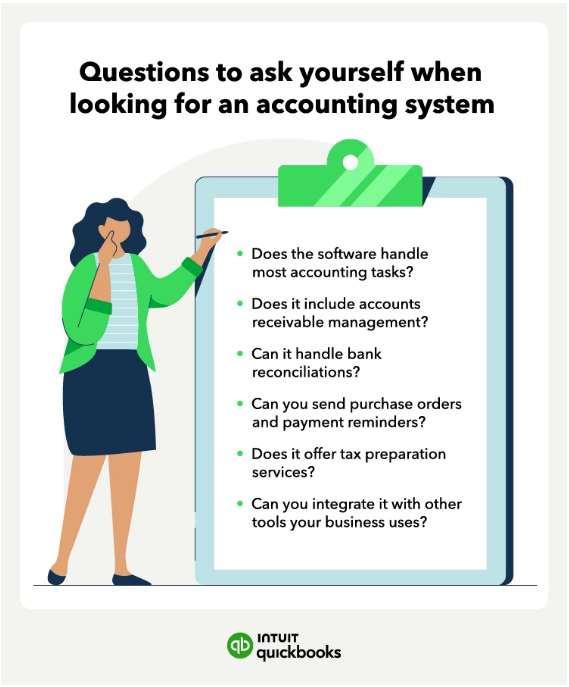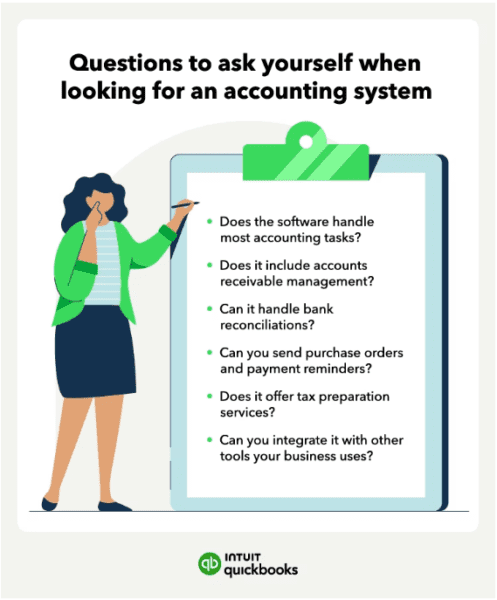 Accounting software varies widely. When contrasting various programs, one of the most crucial aspects to weigh is the specific accounting capabilities. Factors to reflect upon include:
Automation
Tax preparation services
Payment processing
Payroll
Expense tracking
Bear in mind that numerous accounting software vendors provide layered packages that enable an expanded feature set for an increased price.
Automating your accounting can significantly reduce your time spent on financial tasks, but it's essential to verify you have the correct integrations to ensure the smoothest automation process possible.
4. Integrations
To maximize efficiency and fully leverage automation, aim for accounting software that seamlessly syncs with other tools in your toolkit. These integrations help minimize time spent on manual data transfer, freeing you to focus on other essential tasks.
Key integrations may include:
PayPal
Square
Amazon
Shopify
eBay
Prior to settling on an accounting software solution, ascertain whether it offers integration with your banking details and transaction platforms such as Square.
5. Reporting capabilities
What value do reports add to your business? Are you new to accounting or need guidance to identify beneficial reports? If your goal is simply to refine your bookkeeping, manage bills and payments (such as automated invoicing), and execute standard financial reports, then basic accounting software might suffice.
Nevertheless, if your requirements go beyond basic tasks (such as completely revamping your small business accounting processes), you'll need more comprehensive tools. These robust reporting tools enable the generation of complex reports such as:
Accounts receivable aging
Accounts payable aging
Budgeting
Cash flow analysis
6. 
Cash vs. accrual accounting offerings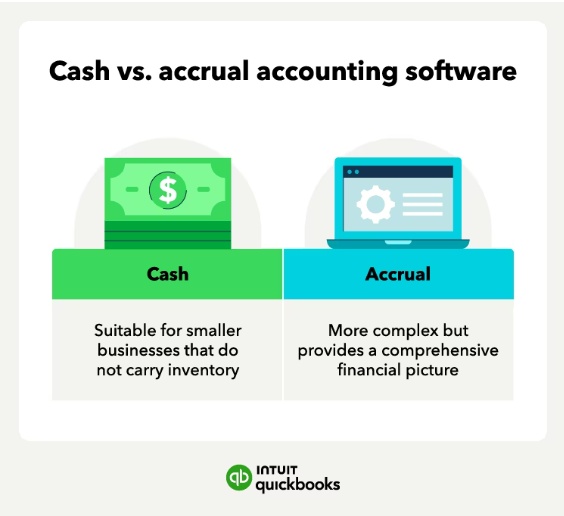 While most accounting software accommodates double-entry bookkeeping, it's not mandatory for all businesses to employ accrual accounting. Perhaps you wish to initiate with cash basis accounting and gradually shift to accrual accounting.
In such situations, accounting software supporting both accrual and cash accounting methods could be crucial.
Accrual accounting logs transactions at the time they occur, irrespective of the actual cash inflow or outflow. In contrast, cash accounting solely records transactions when a monetary transaction takes place.
7. 
Scalability
The days of single-computer accounting software are long gone. Today's online accounting software stores all your data in the cloud, enabling you to access financial information whenever needed.
Storing accounting data in the cloud ensures your software and processes can evolve with your business. With cloud accounting software, any team member (provided they have login details), including your CPA, can use the program on any device. Moreover, many online accounting software solutions come with compatible mobile apps.
This functionality can prove crucial while working on-the-go, prepping for an investor meeting, or constantly monitoring your small business accounting status. With this level of convenience in your accounting solution, you can enjoy peace of mind anywhere, anytime.
Why your accounting software selection matters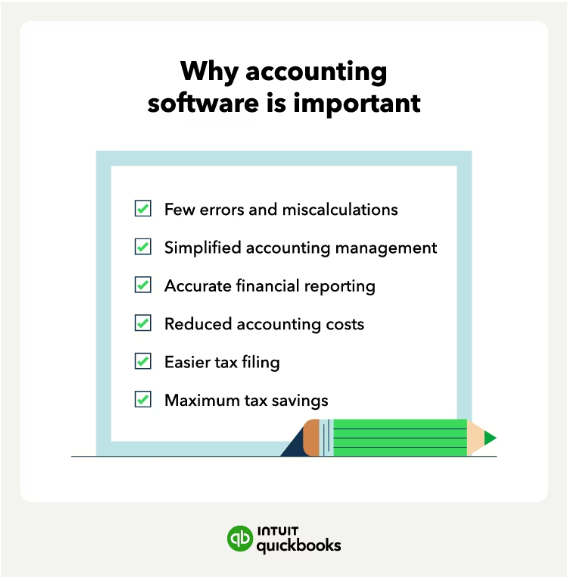 Accounting software comprises a collection of applications engineered to assist businesses in automating bookkeeping and accounting responsibilities like billing and expense monitoring.
Effective small business accounting—ranging from diligent bookkeeping and cash flow management to invoicing—is crucial for your financial prosperity. Accounting software can influence the overarching financial narrative and have a direct effect on your business's monetary facets as follows:
It ensures your books remain current.
It enhances payment collections by using automated invoicing and payment processing, helping you monitor outstanding customer payments.
It minimizes errors stemming from miscalculations, inaccurate reporting, and overlooked transactions.
It creates more precise financial reports and documentation.
It aids in cost reduction.
It simplifies business tax calculations and filings.
It optimizes tax deductions for amplified savings. With the software like QuickBooks, you can store receipts for expenditures and track mileage.
The numerous advantages of accounting software render it a vital instrument for operating your small business more effectively and with less stress. Accounting software allows small businesses to optimize their (frequently limited) resources and boost productivity.
In essence, it enables you to dedicate less time to learning bookkeeping, managing time tracking, pursuing payments, or grappling with inventory management.
Tips for selecting the best accounting software for your business
With a plethora of accounting software solutions in the market, steering through the vast ocean of options can be challenging.
The ideal accounting software is one tailored to your organization's requirements. If you're contemplating adopting one for your enterprise, scrutinize these considerations to guarantee the selection of the most suitable accounting software for your organization:
First, discern the financial requirements of your business.
Seek software that matches your business's size, complexity, and financial limits.
Examine the software's capabilities, including invoicing, payroll management, and reporting.
Verify the software's compatibility with other business applications and banking systems.
Scrutinize the software's security attributes and data safeguarding measures.
Peruse reviews and contrast pricing structures prior to finalizing your decision.
Only you can pinpoint the appropriate accounting solution for your enterprise. Weigh your priorities, be it a budget-friendly subscription or a comprehensive solution, and trim down your choices. Ideally, you'd want to select online accounting software that offers the highest value (possesses the most beneficial features to address your business needs) at a cost-effective price.
A multitude of software solutions are at your disposal. Renowned accounting software providers encompass QuickBooks, FreshBooks, Sage, Wave, and Xero.