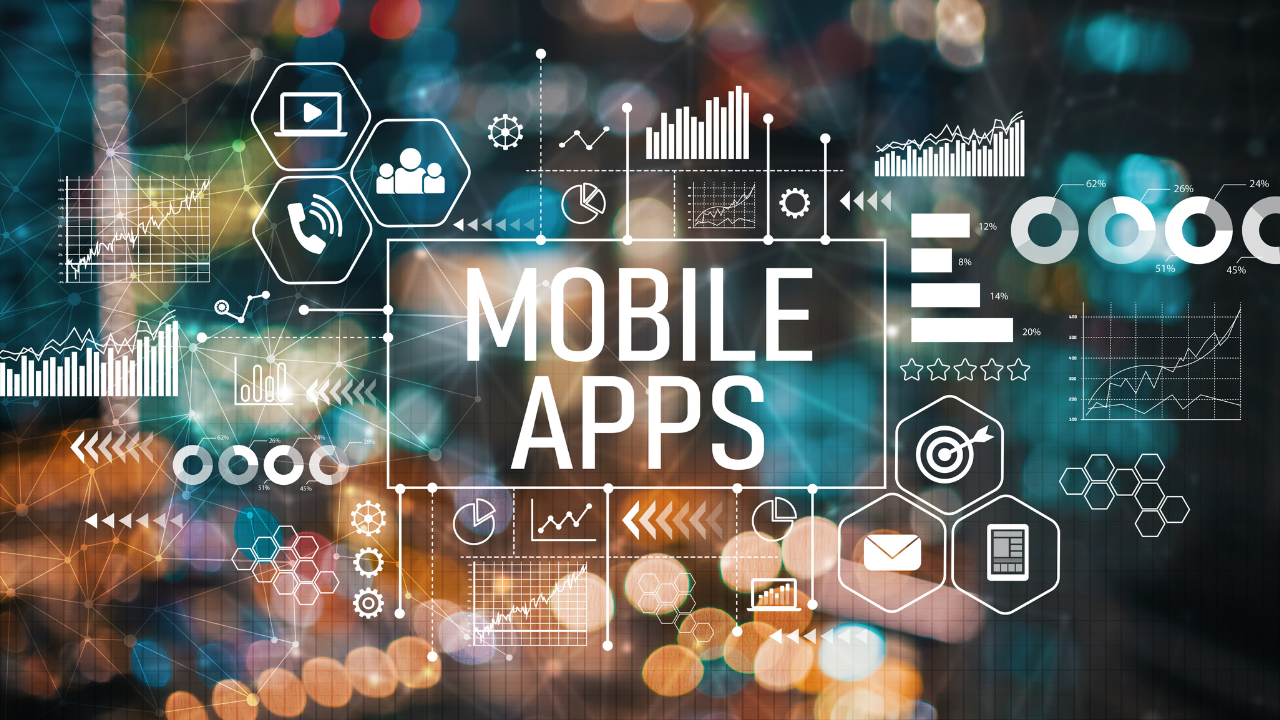 Unleash the power of QuickBooks® Online to supercharge your business operations. With a plethora of robust applications and add-ons at your fingertips, your workflow automation, bookkeeping, invoicing, and data entry tasks transform into a seamless, fluid process. QuickBooks integrations are so intuitive, they're designed to help your small to medium-sized business glide effortlessly on the path to success.
For our QuickBooks Online Advanced users, we've curated a phenomenal suite of Premium Apps that grant you the keys to your financial kingdom—all in one convenient place. Wave goodbye to the days of manually crunching numbers for hours on end. Instead, welcome a new era where these powerful integrations boost productivity, making QuickBooks the ultimate compass guiding your financial and business decisions. A world where your financial truth is centralized, accessible, and reliable—that's the QuickBooks promise.
Navigating the labyrinth of hundreds of apps and add-ons in the QuickBooks App Store can feel like a daunting task. But worry not! We've embarked on this digital expedition on your behalf and emerged with a treasure trove of the absolute best QuickBooks apps and add-ons primed to scale along with your business.
Feast your eyes on the QuickBooks Online Advanced – a suite of Premium Apps, and an assortment of other remarkable gems from our QuickBooks App Store. These tech-savvies transform tedious tasks like bookkeeping, accounting, payroll, and other financial operations into a walk in the park. Dive in and discover the perfect digital ally for your business!
Premium apps for QuickBooks Online Advanced
Bill.com
Imagine having the power of financial control at your fingertips, no matter where you are. Introducing Bill.com, one of the most celebrated apps that sync seamlessly with QuickBooks. Think of it as your personal finance superhero, always ready to enhance your financial prowess.
Bill.com is your ticket to a streamlined financial operation. It enables you to create customized workflows and routing rules that expedite approvals swiftly and conveniently from any device. Imagine handling your financial matters on-the-go, without being tied to your desk.
With the magic of integration, Bill.com and QuickBooks work together like a well-oiled machine. Your bank account information aligns perfectly between both platforms, making your life significantly easier. It's like having a virtual accountant who oversees your accounts receivable and accounts payable, without the extra cost.
Linking Bill.com to your QuickBooks Online Advanced account unlocks an exclusive feature – the Premium App-only capability of deep linking between bills on both platforms. It's like opening a secret doorway between two worlds, where everything just clicks into place.
Here's the icing on the cake: Bill.com doesn't just sync your bank account information. It also aligns your invoices, customers, accounts, book balance, and vendors. This comprehensive functionality lets you create payment schedules, set reminders, and automate approvals. You'll be more organized than ever.
And when it's time to pay attention to a bill? It's as easy as a tap on your device. With the Bill.com app, all your financial information is available at a moment's notice. Because in today's fast-paced world, time is money, and with Bill.com, you're saving both.
HubSpot
Imagine transforming your business by integrating two powerhouse software solutions, HubSpot and QuickBooks. With HubSpot's outstanding customer relationship management (CRM) capabilities, this integration has become an indispensable asset for businesses in need of streamlined operations.
Visualize everything you need to know about your leads and customers, elegantly organized in one place, enhancing your decision-making process and strengthening your customer relationships. As one of the most effective QuickBooks integrations, HubSpot elevates business performance by seamlessly syncing your CRM and accounting software. This synergy accelerates your sales cycle, enhancing collaboration between your sales and finance teams and driving your business success.
Take advantage of QuickBooks Online Advanced and its HubSpot integration, a premium app, to further enhance your invoice management. This powerful duo allows you to bring invoices into QuickBooks in a draft state, giving you the flexibility and control to design your own automated flow. Move invoices effortlessly from draft to review, and from review to approval, fostering seamless coordination between HubSpot and Advanced. This transformative integration redefines productivity and streamlines your operations, setting your business on the path to unparalleled growth.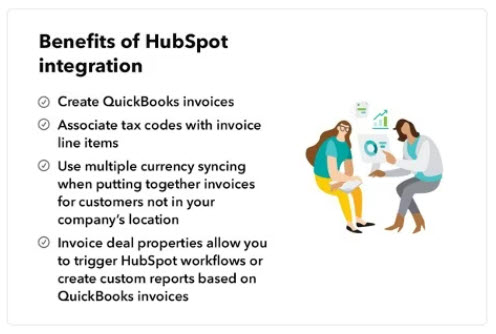 Salesforce
Immerse yourself in the brilliance of Salesforce, a leading application for QuickBooks, that seamlessly marries your business accounting and customer relationship management (CRM). This integration gives you a bird's-eye view of your operations and illuminates opportunities for enhancement.
The Salesforce Connector by QuickBooks, exclusively accessible for QuickBooks Online Advanced users, is an elite tool that acts as a bridge between your sales and finance teams. By knitting these two departments closer together, it ensures the consistent flow and maintenance of vital information across accounts, invoices, and payments.
But that's not all! This cutting-edge connector enables you to freely exchange critical data, such as customer details, sales orders, expenses, and invoicing, between your sales and finance teams. The end result? A well-oiled machine where each cog – your departments – function in perfect harmony.
The Salesforce Connector transforms your business into a fully-transparent entity, allowing a comprehensive view of your cash flow and business health. Furnished with real-time, accurate data, this digital powerhouse empowers you to steer your enterprise towards unprecedented growth. Immerse your business in the power of integration, and experience the extraordinary with Salesforce Connector!
DocuSign
Step into the future of seamless business operations with the groundbreaking integration of the e-Signature app, DocuSign, into our Premium Apps suite. Being the first of its kind, DocuSign eSignature Connector empowers your team to pursue and obtain signatures from clients, colleagues, and other key professionals with impressive efficiency.
Revolutionize the way you handle digital documents on QuickBooks Online Advanced. DocuSign eSignature doesn't just allow you to sign and send documents. It lets you orchestrate a complete digital document workflow right from the platform. From estimates to contracts, launch them into the virtual realm for an electronic signature, all from the comfort of QuickBooks Online Advanced.
This integration crafts an unparalleled convenience for you and your customers. Send an estimate out for an electronic signature without leaving your QuickBooks environment. It's not just convenience, but a whole new way to experience business operations.
LeanLaw
LeanLaw revolutionizes the legal world as a dynamic industry-tailored tool, skyrocketing productivity for law firms and legal businesses. Dubbed as one of the premier QuickBooks apps, it empowers your law firm with pivotal data and intricate reporting, right at the heart of your operations.
Immerse yourself in the seamless integration with QuickBooks Online Advanced, unlocking the potential to meticulously track a myriad of processes. Imagine, trust accounting, client reports, and billable hours – all effortlessly manageable at your fingertips. LeanLaw is more than just an integration; it's a transformational tool for your law firm.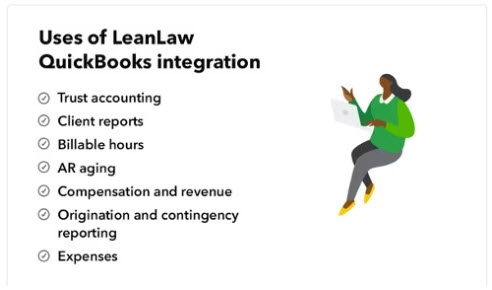 QuickBooks Payroll
Powered by Intuit®, QuickBooks Payroll is not just an add-on to QuickBooks Online, but a comprehensive platform that transforms how you manage your team's payment and administration. Imagine a world where payroll, HR tasks, taxes, health benefits, workers' compensation, and much more, all seamlessly merge into a single, user-friendly app. That's exactly what QuickBooks Payroll brings to your fingertips.
But wait, there's more. QuickBooks Payroll comes armed with features like auto payroll and same-day direct deposit, simplifying payday to the point where it becomes a breeze. Have your employees scattered in different locations? No worries. With advanced mobile time tracking powered by QuickBooks Time, keeping track of hours is no longer a hurdle but an effortless task.
For small business owners, the magic of QuickBooks Payroll extends beyond everyday operations. As tax season rolls around, let QuickBooks Payroll step in as your automated accountant. The app stays updated with the latest sales tax, income tax, payroll tax rates and more, ensuring your business always stays compliant. It doesn't just stop at calculations – QuickBooks Payroll also files your forms automatically.
Embrace the new era of team management and payroll with QuickBooks Payroll – your one-stop solution for a smooth, effortless payroll experience.
Other popular apps
Step right into the vibrant world of the QuickBooks App Store! Not just limited to Premium Apps, it's a bustling digital bazaar brimming with dynamic add-ons that effortlessly harmonize with your QuickBooks software. You'll find a smorgasbord of popular apps that are just too good to pass by. Let's delve into the details:
Fathom
Discover the power of Fathom, the indispensable QuickBooks companion for any small or medium-sized business eager to master their financial destiny. Fathom delves deep into the health of your company, shining a light on cash flow, profitability, and a myriad of other performance indicators.
The moment you start using Fathom, it starts transforming dense financial data into striking visuals that paint a clear picture of your business trends, inclusive of both financial and non-financial elements.
Armed with this newfound knowledge, you'll find yourself ready to strategize and formulate impactful plans. You'll be empowered to confront any challenges that stand in your way and seize control of your business's future.
Here's the cherry on top – if you're an advanced user of QuickBooks Online, you'll get the immense benefits of Fathom without spending an extra dime. It's included absolutely free as part of your Advanced monthly subscription.
Welcome to the future of business intelligence with Fathom. Now, let's get your journey started.
Amazon Business Purchases
Unleash the power of effortless expense management with our newly launched Amazon Business Purchases app integration. This game-changer is designed with companies in mind that crave simplicity while transferring Amazon Business purchase transactions directly into QuickBooks.
Imagine the time you'll save and the manual data entry you'll ditch as this app scoops up your purchases each day, seamlessly automating the retrieval process. Then, at your convenience, you can dive in to review and reconcile these purchases directly in QuickBooks.
But that's not all. This app is also your personal assistant, providing granular details such as product descriptions, item costs, and fee breakdowns for every transaction. Never again will you have to grapple with scattered details.
The app lets you be the maestro of your expense orchestra. You can effortlessly organize and sort your financial details into various categories, pairing them perfectly with your bank transactions. This results in a streamlined and efficient approach to expense management that will revolutionize your accounting process. So why wait? Embrace the future with our Amazon Business Purchases app integration.
Expensify
Picture a world where submitting an expense report is as simple as clicking a button. Well, that's the magic of Expensify, a top-tier QuickBooks add-on that has earned its place in the limelight. Whether it's fuel for your company car or an impromptu lunch with a client, every receipt can easily be turned into a quick, hassle-free approval with Expensify.
By just snapping a photo of your receipt, Expensify's trailblazing SmartScan technology leaps into action. It meticulously extracts vital details like the merchant's name, the date, and the expense amount and, as if by magic, seamlessly syncs them with QuickBooks. The end result? A swift, painless approval process.
Wave goodbye to that dusty old shoebox crammed with crumpled paper receipts. The future of expense tracking is here, and it's all in the palm of your hand. Expensify will take care of the heavy administrative lifting, keep a watchful eye on your expenses, and even build a virtual receipt bank. This way, your cash flow isn't just idling – it's revving to go. Trust Expensify. Trust progress.
Magento
Unleash the power of Magento and revolutionize your sales and inventory management. With Magento, you're not just syncing your sales; you're catapulting your productivity to new heights, freeing yourself from hours of tedious manual data entry.
But that's just scratching the surface. Imagine an ecosystem where every order you make in Magento instantly generates an invoice in QuickBooks Online. No more endless paperwork; it's as easy as click-and-go. And it gets better – creating a new product in Magento? It automatically creates a new item in QuickBooks Online. It's synchronization made simple.
Beyond these, Magento empowers you with the ability to craft multiple sales channels directly to QuickBooks Online. Never worry about outdated stock levels; whether you're tracking by product name or SKU, Magento's got you covered.
Embrace the power of Magento for a seamless, efficient, and streamlined inventory management experience. Elevate your business today with Magento at the helm.
Summary
We're about to dive into an ocean of possibilities with QuickBooks! What we've previously introduced you to are just a few ripples on the surface. The power of QuickBooks add-ons is akin to a goldmine, waiting to revolutionize your business experience. Ready to supercharge your workflows, skyrocket your productivity, and turbo-boost your efficiency? QuickBooks Online (QBO) has got your back with all the right tools. Hold your breath as you plunge into the QuickBooks App Store. Be prepared to be amazed by the world of plug-ins and apps designed just for you, ready to reshape your business journey! Dive in, and discover the extraordinary.
Meet with a QuickBooks service expert today! 
Schedule a complimentary QuickBooks service consultation to find out the recurring accounting services to help your business run at its best.
Meet Today